Retailers are under constant pressure to adapt, responding to dramatic challenges from competitors and rapidly shifting consumer preferences. This is especially true when it comes to curating a compelling site experience, where every detail matters and the stakes are sky-high.
A new Syndigo report, The State of Product Content 2023, offers crucial insights into what today's shoppers want online and how to stay competitive in a dynamic market. The comprehensive guide analyzes responses from over 1,000 US adults surveyed about how they interact with and think about the product content on your digital and physical shelves. Download it now to get a complete breakdown of the data or read on for a sneak preview.
Get Your Copy: The State of Product Content 2023
When it Comes to Product Information, Your Customers Want a Little Bit (Or a Lot) of Everything
When asked, consumers expressed significant interest in every kind of product data, imagery and experience imaginable on the PDP (Product Detail Page).
Essential Core product information is looked for first and foremost. About half of consumers say they look first for a description of the product's basic features and capabilities (51%) and information like weight, materials, quantity, volume, dimensions and ingredients (49%). This makes intuitive sense, especially for shoppers that already have an idea of the product they wish to buy and simply wish to confirm that they're purchasing the correct item.
But demand for other data and resources on the PDP is high as well. From videos to user manuals, and vivid imagery to interactive product tours, consumers called for Enhanced Content to make their buying experience more informative, entertaining, and engaging.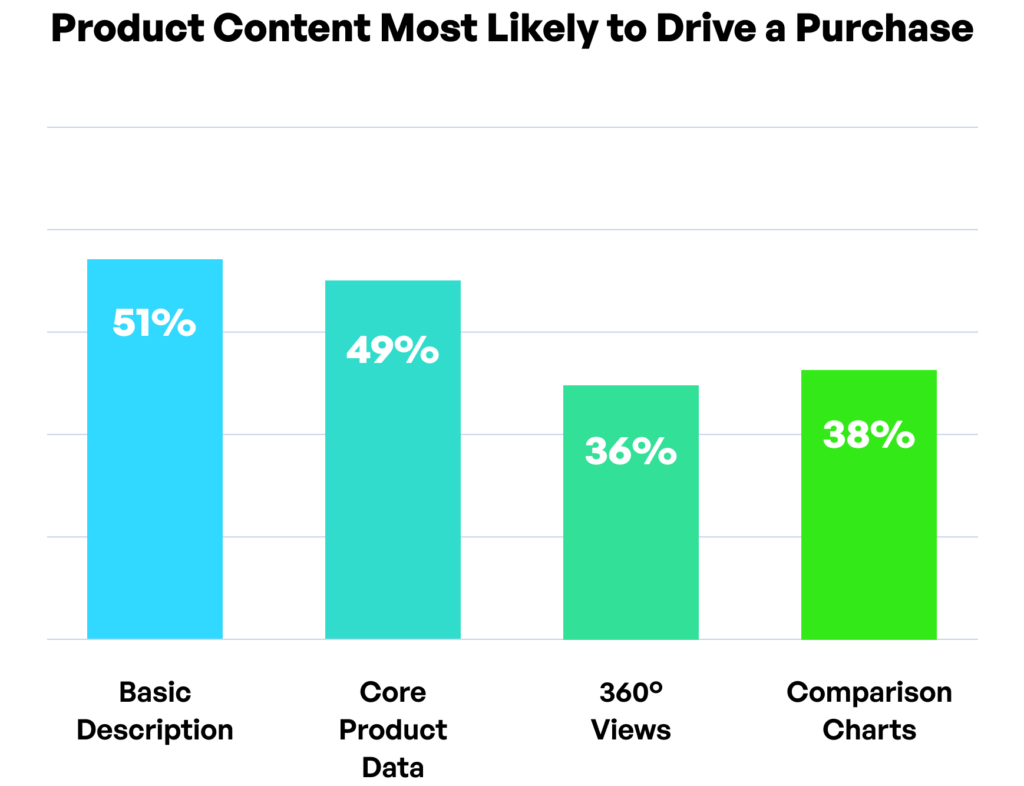 According to consumers, all kinds of Enhanced Content had a strong chance to make them more open to making a purchase on a PDP. But two kinds of Enhanced Content stood out with particularly high interest: 36% wanted to see 360° views that let them examine a product from all angles, and 38% sought side-by-side comparison charts featuring similar products.
The data support Syndigo's conversion measures that demonstrate a lift of an average of 39% in conversions for products that have Enhanced Content on a PDP. For retailers looking to grow sales with an improved ecommerce experience, including Enhanced Content is an essential strategy.
Want to see how your customers rank other kinds of content?
Download the complete report to find out!
Inconsistent Product Data is Driving Product Returns
Product returns are a growing problem for ecommerce stores. The NRF reports the average return rate for online purchases recently jumped to 20.8%. This is a painful and expensive trend for retailers and online marketplaces, eroding thin margins and presenting complex logistical challenges to manage.
Some product returns are unavoidable. If a product that breaks during shipping or a customer simply changes their mind, there's only so much you can do to mitigate that.
But as data from the new report show , many returns are due to confusion or misplaced expectations caused by discrepancies in what a consumer reads and learns about a product online vs what they experience once they unbox the item. Almost one in three consumers (32%) report returning one or more products in the last six months because they "did not meet expectations based on the information you had available about that product while shopping."
This stands out because it is largely an avoidable problem for retailers. Improving the quality, quantity and consistency of product data for your assortment means customers will more frequently buy the products they want and understand exactly what they're putting in their cart. That means fewer costly returns and happier shoppers more likely to come back for more.
Your Content = Your Brand
The influence of product content across your site extends beyond the PDPs and shopping cart. As the report shows, the availability and quality of product information and data on your ecommerce store directly influences your brand perception and standing in the market.
62% of consumers say that their impression of a brand weakens when products are not accurately and thoroughly represented online. If products on your site lack important data, or if there's inaccuracies on your PDPs, that can tarnish your reputation as a reliable seller.
Impact of Product Content on Brand Perception
Does it negatively impact your perception of a brand if their products are not accurately and completely represented online?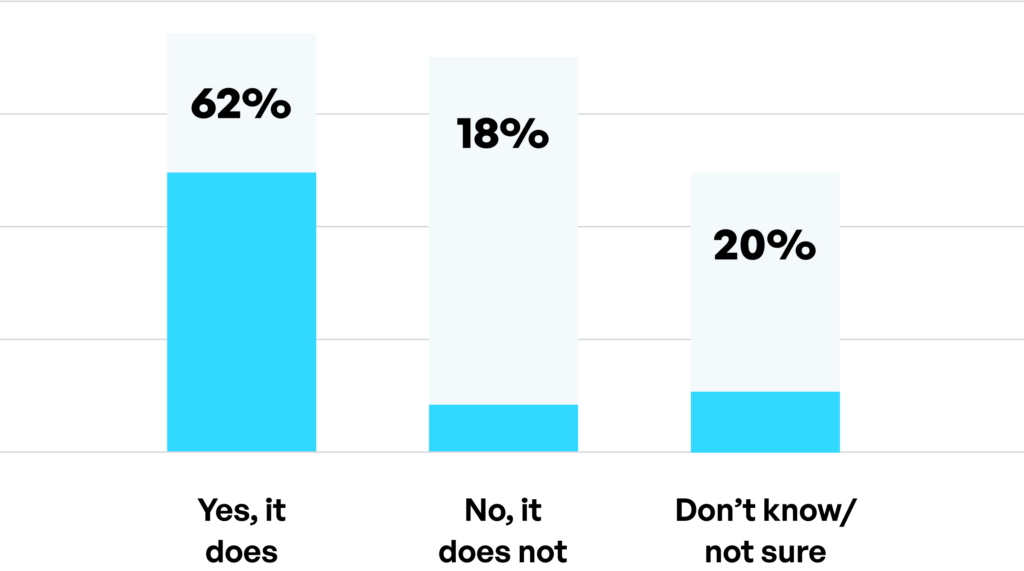 Your brand is one of your most important assets; it's what gives you an identity, connects with customers, and distinguishes you in the marketplace. If you want to preserve it, the data shows you should treat product content with as much care and thought as other parts of your brand like your core messaging, voice, and style.
Discover What Your Customers Really Want From Your Site
Why guess at what your customers expect from your ecommerce store when you can hear it straight from the source? Get your copy of The State of Product Content 2023 for the complete breakdown of survey responses and expert insights.
The State of Product Content 2023