Master data management (MDM) is a powerful tool that companies use more and more to manage business operations, streamline data, increase analytical capabilities, and make informed business decisions. MDM platforms help companies rapidly adapt to changing market conditions and consumer demands.
Most businesses see MDM as a critical component of plans to commercialize their data — and in today's data-driven world, the importance of MDM cannot be overstated. But what is master data management, and why is it so important to modern organizations?
What is Master Data Management?
Master data management (MDM) is a method of collecting, storing, and organizing the core data that runs through an enterprise's digital ecosystem. This includes but is not limited to data relating to customers, suppliers, products, parts, employees, materials, and locations.
One important step in managing this data is the implementation of an effective master data management platform, which should function as a single source of truth, providing a "bank" of agreed-upon information for everyone in the organization. 
The right master data management platform should pull in key business data from various aspects of the enterprise while allowing key personnel to view, manage, and analyze this data via user-friendly interfaces.
Poor data quality can cost organizations millions of dollars per year. MDM offers companies an accurate and reliable overview of their data that they can leverage to make better business decisions and increase customer satisfaction. Having a fluid data-centric architecture in place also allows companies to respond to ever-changing market conditions while assessing risks and opportunities. 
Master Data – The Key to MDM
Master data is the core data that runs through an enterprise's digital ecosystem. This data consists of an enormous amount of information. This can include reference data – publicly referenceable information, such as customer addresses and telephone numbers – or company-specific data such as supplier materials, products, parts, locations, recipes, and more.
All departments across the organization rely on master data to make informed decisions, plan effective strategies, and measure their success. Master data forms the foundation that enables companies to develop analytical capabilities and manage their business.
Master data management refers to the systematic management of this master data by using a comprehensive data management platform. MDM systems typically consist of several elements, including data integration, data quality, data governance, and data synchronization.
Within the MDM solution, data is collected from various sources (both internal and external), cleaned, standardized, and made available to different systems in the organization.
By providing a centralized system for managing data, MDM solutions help enforce data standards, policies, and procedures — all while ensuring data quality, accuracy, and consistency across the organization.
What is the Purpose of Master Data Management?
Master data management solutions connect products, customers, employees, suppliers, physical locations, and more in a single cohesive and easy-to-manage data ecosystem.
MDM serves several purposes, including:
Strategy
MDM systems help organizations develop effective business strategies by creating a unified experience for key decision-makers, harnessing data to personalize customer experiences and customize product offerings, and creating a seamless system of internal data governance.
Efficiency
By providing an intelligent data hub that can handle large volumes of data, master data management platforms give users the ability to mine for insights and automate key processes, saving their organizations time and money. Data sharing is also improved, as the time and effort required to manage data are reduced and data accessibility is increased.
Compliance
MDM helps companies stay compliant by providing master data that is accurate, consistent, accessible, and up-to-date. Master data management systems allow organizations to track and document the data usage and changes that are often needed for regulatory compliance.
Data Quality
Master data management helps companies ensure that their data is accurate, complete, and consistent across the organization, empowering better decisions. Having a single source of truth for data improves the quality of data across the organization and minimizes errors that might otherwise give an inaccurate picture.
Data Transparency
MDM improves data transparency and eliminates data silos within an organization, allowing more alignment, cohesion, and growth. 
Cost Savings
Master data management systems can help organizations cut costs by reducing the prevalence of data errors, eliminating redundant data, and improving organizational efficiency. In addition, utilizing master data management allows organizations to make informed decisions that increase customer satisfaction, sales, and profitability. 
With a master data management system, organizations can accomplish a wide range of critical goals across various levels and departments.
The Elements of MDM (How Does Master Data Management Improve Your Data?)
The problem with most organizations is not a shortage of data. It's that the data is often difficult to access, inaccurate, and inconsistent (among other issues). Master data management systems consist of a number of elements that help companies improve their data.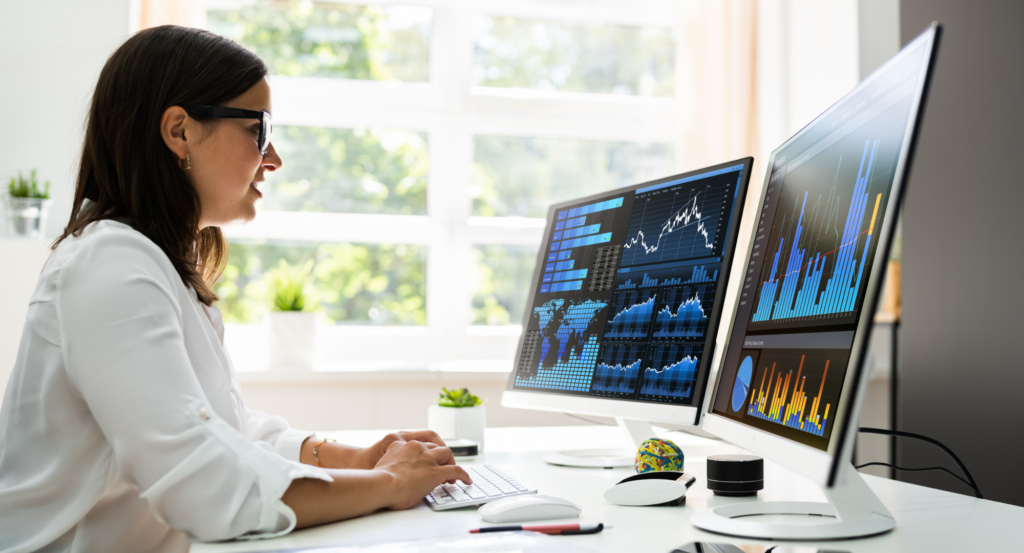 Data Integration
When data is stored in multiple silos or across multiple verticals within an organization, it can be difficult to achieve a comprehensive view of data. Master data management helps consolidate this data into a single integrated view. MDM pulls in key information from various sources to create a one-stop shop for trusted data. Through the combination of both internal and external data, organizations gain a holistic picture of business operations and their impacts. Having access to this data allows decision-makers to create and implement better-informed strategies for their business.
Data Quality
If an organization is experiencing data quality issues, it can result in poor decision-making, inefficient operations, and increased costs. On the other hand, master data management provides your company with ongoing access to reliable and accurate data. Data de-duplication and standardization take place within the MDM system to streamline operations — resulting in data that can be trusted by everyone in your organization.
Data Governance
Lack of proper data governance within an organization leads to inconsistent data management practices. A successfully integrated MDM solution, however, gives key business personnel a way to seamlessly view, manage, and analyze large volumes of data. With a master data management system in place, organizations can establish a consistent governance structure for their data — including how data is used, how data is managed, and who is responsible for this data. MDM not only adds governance to data structure, but also to data context. For example, organizations can rely on master data to track and verify both an item and its state (where it is, when it was created, etc.). In addition, using MDM technologies allows for the implementation of automated processes and data mining. By empowering data governance practices, MDM helps organizations streamline workflows and collaborate more easily across locations and departments.
Data Synchronization
Master data management helps organizations establish consistency among data from different sources, ensuring identical datasets exist in all relevant systems. Data synchronization involves the continuous harmonization of data updates, ensuring that when data is updated in one location, the changes are disseminated to all other locations. This element is critical to maintain the accuracy and reliability of data across the digital ecosystem and support coherent decision-making based on the most up-to-date and unified data.
These elements ensure MDM brings tangible value to companies. But what are the actual steps in the master data management process?
How MDM Works: A Step-by-Step Walkthrough
How does master data management create more usable, effective data for organizations? It's a four-step process.
1. Collecting Data
MDM platforms act as a single source of truth by collecting data from various sources across an organization and beyond. During the implementation of a new MDM system, all sources of master data will be located and identified, from product listings to internal spreadsheets to data networks. According to the agreed-upon strategy, data is then collected about relevant domains – customers, suppliers, products, parts, employees, materials, locations, and more.
2. Consolidating and Cleaning Data
The gathered information is then processed and standardized while any erroneous data is de-duplicated, cleansed, and corrected. Data cleansing may include normalizing data formats, replacing missing values, standardizing values, and mapping attributes.
3. Centralizing Data
A master data management system enhances data visibility within an organization by creating one central location within the company where key employees can view and manage the data. This singular, comprehensive view helps power more accurate data analysis and business decisions. Plus, streamlined workflows promote cross-departmental collaboration, while innovative UIs help ensure data privacy and compliance. Cloud-based MDM solutions offer even more advantages, including increased stability, scalability, accessibility, cost-effectiveness, reduced IT maintenance, and improved security measures. These technologies also typically incorporate automatic updates to ensure that the system is always up-to-date.
4. Distributing Data
Every organization will need to implement a data governance plan that includes appointing master data owners and data stewards, setting up automated processes, and complying with regulatory requirements. Data within the MDM platform can then be made accessible to anyone in the organization from any location. Managers can pull reliable performance metrics and KPIs to help inform their business decisions, and data analysts can access reliable numbers for monthly reporting.
With the right MDM solution, the process of implementing these steps can be simple, efficient, and timely.
Types of Domains in Multi-Domain MDM
Data domains are simply large data sets that cover a specific area of importance. Multi-domain MDM provides next-gen data architecture that brings together data from multiple domains into one centralized platform and derives intelligence from the interplay of the multiple domains. Which products are selling well at which locations? Which customers are likely to use coupons at which stores and on which products? Multi-domain MDM can help companies answer questions like these.
While each individual data domain plays a crucial role in master data management, multi-domain MDM refers to the interactivity between domains which results in insights no single domain could produce on its own.
The most common domains served by master data management include the following. 
Customer Data Domain
The customer domain encompasses all the information about the customers an organization interacts with. Customer domain configuration helps you anticipate your customers' needs with centralized records that link and synchronize customer information across data sources. Understanding consumer data is crucial to making intelligent business decisions that optimize spending. Companies can use customer data to create more successful marketing campaigns, offer sales and promotions based on historical engagement, and personalize marketing campaigns to their target customers. Customer Master Data is your company's ticket to increasing customer satisfaction and improving the customer experience. 
Product Data Domain
A product domain refers to all of the information relating to the products in your portfolio, such as measurements, ingredients, branding, and many other characteristics. Product data is most effective when it is connected across the ecosystem, creating a single record that can satisfy internal and external data requirements, standards, and delivery formats.
When implemented fully, the Product Data Domain can be considered a full Product Information Management (PIM) solution. In this scenario, PIM can be operated independently or implemented as part of a multi-domain solution. However, it is sometimes the case in market that a solution provider refers to a "PIM" that is not actually a complete solution, but rather a "light" version for syndication, such as "Product Experience Management".  
Companies can utilize product domain data to introduce a new product to a specific market, connect finished goods to a packaging SKU to a manufacturing SKU through APIs, ensure product descriptions and details stay consistent across all channels and are easily edited when required, promote the seamless publishing of product data to the market, and enable information onboarding during M&A scenarios.
Asset Data Domain
Asset data helps your organization understand how assets are being used and respond by optimizing your marketing or business strategies. The use of an MDM system allows companies to optimize product and digital asset data in one central location. Multi-domain MDM solutions connect data from the product domain, asset domain, location domain, and more. Syndigo's DAM (Digital Asset Management) solution manages and distributes digitally stored content (such as images, documents, and multimedia files) while integrating with other Syndigo solutions to serve as the single source for digital asset files.
Location Data Domain
The location domain contains information about all the places where an organization conducts business. Location data management helps companies view and manage data from multiple storefronts, warehouses, and other physical locations. Having access to location data in an MDM system connects external and internal data, eliminating silos and streamlining some of your most important data. Location data can help companies understand commerce at the individual store level by correlating store domain data and product domain data. Plus, it enables companies to manage supply chain operations more efficiently by optimizing product flow.
Supplier Data Domain
Vendor and supplier data management creates a consistent, reliable process to vet new vendors, classify them based on their services and level of data access, and screen for potential overlap. Vendor MDM solutions can be used to manage relationships between customer, vendor, and product domains in a single platform, enable the measurement and comparison of vendor performance to reduce costs through better contract terms or vendor selection, standardize the vendor creation process, enrich vendor data through verification, and integrate with third-party providers.
By combining the information from multiple data domains, a multi-domain MDM system can gain valuable insights to fuel better decision-making.
The Impact of MDM Across Different Industries
The benefits of master data management are not limited to a single industry or sector. Rather, MDM can provide solutions to clients across a variety of industries, from energy to healthcare.
At Syndigo, our solutions provide tailored experiences for all areas of expertise. Let's look at the potential impact of MDM on several different industries. 
Retailers and Distributors
Companies in the retail space often experience intense competition from others seeking to draw in customers by providing a better customer experience. Master data management solutions allow retailers and distributors to rapidly adapt to customer demand. Syndigo's unique suite of MDM and PIM solutions helps companies unify data sets, processes, and domains across products, customers, and locations so businesses can learn about their customers, including what they want, need, and lack. Syndigo's MDM enables retailers and distributors to make business decisions that help them rise above the competition.
Food Service
Food service clients have a great need for accurate and reliable centralized data — especially when it comes to food safety. Companies must often comply with regulatory agencies when it comes to product ingredients, allergen labeling, and traceability. The implementation of an MDM system can help food service clients streamline compliance, enhance traceability, and meet consumer demand. For example, master data management platforms enable swift product identification and location tracking if product recalls become necessary. Syndigo's complementary solutions for food service clients include content creation, global data synchronization network (GDSN) content, and rich media. 
Healthcare
Clients in the healthcare industry stand to benefit greatly from master data management. MDM allows healthcare companies to keep up with ever-changing technology, evolving guidelines and regulations, adjust for rapid growth, and wrangle multiple sources of both internal and external data. With the healthcare sector becoming a highly digitized industry, MDM enables healthcare providers across the globe to improve patient experience via a single integrated data platform. Using a master data management platform also results in highly accurate and reliable data — a necessity for healthcare companies dealing with regulatory requirements, strict data standards, and high data liability. Syndigo's healthcare MDM solutions are designed to serve top brand owners, medical device manufacturers, GPOs, distributors, and providers.
Automotive Aftermarket
Whether they deal with manufacturers, vehicles, assemblies, parts, or marketplaces, automotive aftermarket companies benefit tremendously from using master data management. MDM helps auto parts suppliers and receivers stay ahead of the changing marketplace while maintaining data integrity and compliance. MDM provides automotive aftermarket clients with a scalable platform and a single uniform source of reliable data for products, suppliers, vendors, customers, and other domains. Syndigo's Automotive Aftermarket solution is built specifically for this segment with industry best practices as well as analytics and reporting specific to the sector. 
Restaurants and Operators
Just as with the food service industry, restaurants and operators require access to highly accurate and reliable master data when it comes to food safety and traceability. Government requirements and consumer demands for product information place additional pressure on companies and their data technologies, and master data management provides the necessary efficiency, visibility, and control for data collected from various sources both inside and outside the company. Syndigo's solutions for restaurants and operators include MDM, GDSN product content, and Syndigo's Active Content Engine. 
Energy
MDM in the energy sector can be used to mitigate risk, identify key areas of opportunity, create long-term forecasts that project peak demand and determine future capacity needs, and optimize productivity and efficiency when making business decisions. Energy clients need a way to securely manage data from across various domains, including parties (customers, OEMs, partners, etc.), places (well sites, rigs, and warehouses), and things (equipment, spare parts, and product catalogs). Syndigo's suite of master data management solutions provides a way for energy companies to reliably track and analyze the data that matters most while proactively driving smart decisions for the unique risks and opportunities that can arise in the energy industry. 
Consumer Packaged Goods
Today, the consumer packaged goods (CPG) sector faces several challenges — including difficult, demanding, more educated digital consumers and an increase in competition — all of which indicate a shift in the balance of power towards the customer. Brands, retailers, suppliers, and distributors all need a way to keep up with the sudden growth in the volume, variety, and velocity of data across deeply fragmented and often unconnected systems. Companies in the CPG space can use the implementation of MDM solutions to quickly master, manage, and syndicate their data. Specifically, MDM implementation allows companies in the CPG industry to benefit from continuous optimization, enhanced visibility, and in-store alignment. Companies can expect to see increased product traceability and safety, simplified product information management (PIM) and product introduction processes, and improved interconnectivity across all departments with automated data flow that eliminates information silos. Syndigo's comprehensive solutions for CPG clients help our clients syndicate their data and drive sales across every channel. 
Manufacturing
Manufacturers are constantly innovating. By helping optimize resources, reduce costs, increase new channels, and discover new opportunities for revenue, master data management empowers industrial manufacturing clients to deliver a better experience across their entire supply chain. With a solid MDM system in place, companies can make smarter decisions with access to better data in areas such as product development, sourcing and distribution, and product lifecycle management (PLM). Syndigo's product offerings allow manufacturers to leverage a proven and scalable MDM solution designed to help carry the unique data and compliance burdens of the industry.
Steps to Implementing MDM
While it is typically a major improvement over the existing status quo, upgrading to an MDM solution can be a big change for an organization. Fortunately, the steps to incorporating MDM into your company are relatively straightforward.
1.Understand the Current Data Environment
The first step for companies looking to implement master data management is to evaluate their current data environment and define their business requirements and goals. This includes locating all potential sources of master data, identifying the business processes that require master data, and defining the data governance policies and procedures that must be enforced. In addition, companies should consider their current IT landscape, organizational structure, data quality needs, and compliance requirements in order to ensure a successful implementation.
2. Develop an MDM strategy
Companies considering an MDM system often seek solutions because their current data is in chaos. Therefore, having a solid data strategy beforehand is a key component to a successful MDM implementation. Your organization can have access to all the data in the world, but without an effective data governance plan, you could be leaving valuable insights (and profits) on the table. A solid MDM strategy should include a clear plan for data governance policies and procedures, the prioritization of data domains, the development of a data quality framework, and the creation of a centralized data repository. Best practices for security measures, data integration, and data monitoring should be identified and established. Lastly, all possible deployment styles should be considered.
3. Implement the MDM System
Upgrading to a master data management system should be a seamless and beneficial process. When thinking about how to introduce and implement MDM into your organization, it's useful to consider where and how it will have the greatest impact. Deployment styles include consolidation MDM, registry MDM, centralized MDM, and coexistence MDM.  Master data management can also integrate with other business systems, such as enterprise resource planning (ERP), customer relationship management (CRM), and product information management (PIM).
4. Continuously Monitor and Improve the MDM System
A well-implemented MDM system should impact how organizations run their business, grow their business, and transform their business. Any company that implements an MDM system should educate key employees and decision-makers on how to execute ongoing data governance. With a wealth of information at their fingertips, organizations stand to greatly benefit from data mining and automated processes. To capitalize on this potential, companies should appoint data managers and data stewards to help implement the continuous monitoring of the MDM system, and master data should be continually referenced when making key business decisions, innovations, and ideations. 
Benefits of Master Data Management
Once implemented, master data management systems help businesses achieve their goals and make better-informed business decisions. Additionally, utilizing an MDM solution has several benefits for organizations in any sector, including:
Greater
cross-functional
collaboration
Improved
coordination
across all
Enhanced
efficiency
Superior
customer
experiences
Accelerated
business growth
Greater
strategic
capabilities
Improved
business
performance &
profitability
Streamlined
workflows
Perhaps most importantly, the insights and improved workflows stemming from MDM give companies an edge over rivals in a highly competitive business landscape.
Harnessing your company's master data with an MDM solution is the key to digital transformation and innovation, allowing your organization to scale operations, drive revenue growth, and rapidly adapt to customer demand.
A multi-domain, cloud-native MDM solution like Syndigo's Master Data Management Platform delivers stability and data privacy while providing a single, accurate, scalable source of master data.
Is Your Business Ready for an MDM Solution? Check Out the Syndigo Platform
At Syndigo, we leverage our knowledge, expertise, and experience to help brands, retailers, distributors, and partners gain control of their data to deliver better customer experiences. 
Syndigo's industry-leading Master Data Experience Platform enables customers to leverage their data through intelligent insights, automation, and multi-domain SaaS solutions. Implementing our cloud-native Syndigo platform will not only allow your company to better understand your customers but help you move products faster, automate processes, mitigate risk, and make better business decisions.
Accelerate your business success with a master data foundation that shapes corporate strategy and data governance, guiding you with insights so you can act sooner than your competition.
If you want to find out more about everything Syndigo MDM can do for your business, take a product tour.