The choice of whether to build or buy software is a challenging question with different answers for each case, especially in the business case for Master Data Management.
As organizations deal with a rapidly increasing volume and complexity of data across the enterprise, they inevitably reach a critical tipping point where they recognize the importance of having a single unified source of their data to achieve their long-term goals.
Whether this data originates from the product, customer, or location domains, a multi-domain Master Data Management (MDM) solution is the obvious solution.
Now comes the million-dollar question: Should you build or buy the software solution?
The Build vs. Buy Decision
For executives looking for ways to innovate and streamline their business, the decision between building in-house software versus buying an external solution can be fairly complex.
"Why should we buy this vendor's software instead of building our own?"
It's a fair question.
You are proud of your IT and development teams and are confident in their abilities. They maintain your current IT infrastructure and data ecosystem. They understand the organization's uses of information. So, why shouldn't they build the roadmap and put together a single application?
Consider Uniqueness in the Build
Let's consider a hypothetical first. Say your child has seen the latest Barbie movie and, inspired by the movie, wants a dollhouse to play with.
You have two choices: You can either buy a nice dollhouse from the store or build a dollhouse yourself.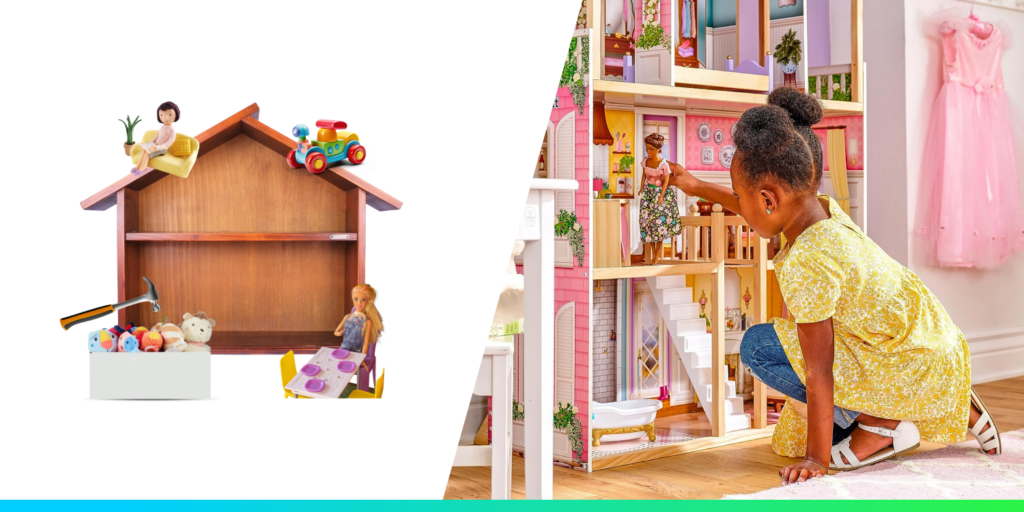 Dollhouses are a fairly mature product. You will not have any difficulty finding a dollhouse to by that meets broad specifications – big/small, bright or sober toned, two- or three-storied, etc. All you have to do is simply walk into a store and pick up the dollhouse you want, and you're ready to play in a matter of minutes.
But maybe your child wants a very specific kind of dollhouse – maybe the dolls are of a non-standard shapes and sizes, maybe the shade of color they want isn't available in the store, maybe they want the dollhouse to exactly match your current home, or just maybe Godzilla and Barbie both have to fit through the same dollhouse door! None of the choices you have seen in the market can meet your current requirements.
Let's also say that you have the required expertise to build a custom dollhouse with these unique requirements. You know that procuring the parts can be expensive and the effort laborious, but it is the only way in which your child's requirements will be met. If that is what that is needed, then it is certainly worth all that trouble for you to build that special dollhouse for your child.
Similarly, in the reasonably mature market for MDM and Product Information Management (PIM) solutions, most businesses will find that their needs will be met by products that are already in the market, without needing to build it themselves.
But if you feel that you are a unique business with very specialized needs, and you have the ability to build the application yourself, then the decision follows that you may wish to build it yourself.
The Challenges of Building Versus Buying
In our experience, businesses thinking about developing their own applications underestimate the challenges of successfully doing so.
In particular, when businesses explore building an MDM or PIM solution, they undervalue three significant factors in their build vs. buy decision framework:
1. Technical expertise
Developing software that is both specialized and complex—like MDM or PIM is by nature not a one-size-fits-all solution. There is no "silver bullet". Your first considerations:
You will require a dedicated team of architects, developers, testers, and deployment specialists, and then UX and design specialists to make it usable and accessible for all company users.
Your data stewards and managers will need to articulate all their feature needs and functional requirements for the team to develop.
Coordination and communication between all of your teams will increase nonlinearly with complexity and with increases in application size.
Beyond the initial conversation, a few deeper questions to ask yourselves:
Is this your development team's core competency?
Can you do this faster, better, and more efficiently than a specialist vendor with experience and acclaim from customers and experts?
Will this effort, just to maintain the status quo, be worth it, while your organization's direction constantly evolves? After the first build, can it then scale as your company evolves?
Can all of this be done fast and well enough to fulfill your team's needs without compromising your strategic calendar?
Even if everything works exactly as you want it today, the future always brings more challenges. As new technologies and database structures emerge, your team will need to absorb new resource coverage, bug fixes, time, and financials of the project. And your users will need regular support.
2. Industry expertise
As you consider the 'build vs buy software,' industry expertise is, perhaps counterintuitively, a potential blind spot. You might feel confident that you understand the precise needs of your business and so are best qualified to build in-house.
However, no single business possesses the breadth of understanding and knowledge of the needs of an industry the way that a vendor catering to that domain does. And this may limit the possible improvements that could be implemented with a broader view and experience.
On any given day, a SaaS vendor like Syndigo communicates with hundreds of present and future customers as well as consults with panels of industry experts and analysts. Our knowledge embeds a cultural matrix of applications, industry standards, best practices, use cases, and industry endpoints, all of which change continually and influence the software.
As such, most MDM vendors are constantly challenged by their existing and prospective customers. So, the incentive to stay on top of iterative refinement of product and industry knowledge is much higher for a vendor than it is for an individual business.
3. Specialization vs. generalization
Let's say you go ahead and build the application. An application built by you for your internal users is designed to cater to your company's specific needs, as determined at a specific point in time.
For this reason, the product will start to deviate from your idea of perfection almost from the very first day it launches. Evolving user needs, emerging technologies, market trends, or even new strategic business goals will cause your application to lose effectiveness quickly.
And that's when you'll realize the challenges of modifying the application, such as:
Changing analytics rules
Adding new retail endpoints
Changing workflow conditions
And…this list could go on, specific to the changes of your business that were initially unaccounted for.
You'll also realize that these changes are oftentimes more expensive to execute than building the original application. And that's because the application was probably not designed to be upgraded.
Because SaaS software vendors build applications to serve a broader set of customers, their applications are always designed to be continually upgraded and expanded easily as a part of a roadmap involving continual improvement to serve these customers. As a bonus, when the application gets upgraded for the needs of other customers, you benefit too.
Buying a SaaS MDM Platform Shrinks Time to Value
For most businesses looking for MDM or PIM solutions, a SaaS platform purchase provides the better time to value as it connects your actions to results in no time. Think about the financial and operational challenges of building your own software like starting a capital project and then compare it to the ease of dealing with a SaaS vendor like Syndigo.
Even if an "off-the-shelf" solution does not initially cover all use cases, Syndigo's flexible platform can give you the best of both worlds – providing tools to easy-build your specific functional needs while remaining adjustable to the advantages a SaaS delivers.
You can trust the expertise of a Gartner-recognized MDM industry leader to help you through the software-buying process and meet your evolving needs whenever you need it.
Let us show you how Syndigo can help you customize the solution to a certain extent to suit your requirements.