Focus on Enhancing the Customer Experience
We all know the speed of commerce is fast and furious, and capturing a greater share of online shopping is a key to staying ahead of the competition. The best way to do this is by creating a shopper experience that engages shoppers and converts at a higher rate. Retailers have the control to create that for their supplier partners.
Enhanced Content—sometimes known as below-the-fold or inline, rich media content—has a strong influence on shopper behavior. Simply by adding this additional content to product pages can increase conversions by 90% on average. And when a customer interacts with that content, conversions can be tenfold. Syndigo has more than two decades' experience in delivering Enhanced Content directly to eCommerce sites, with more than $1.7 trillion in 2021 global sales attributed to Enhanced Content for Syndigo 2500+ brand partners. If you are ready to win at every shelf, here are some suggestions for retailers, to make sure you can make the most of your eCommerce programs.
Driving more eCommerce engagement
While retailers own the design of their eCommerce environment, it is their suppliers that invest in the content that will aid in educating shoppers and driving sales. By creating a framework that encourages (or even requires) Enhanced Content, retailers can ultimately build loyalty with their shoppers by enabling their suppliers to elevate the shopping experience by leveraging content such as videos, 360s, interactive product tours, in-use shots or even PDF to educate and inspire a purchase.
Of course, a blocker for implementing new features on a retail site is often the perceived technology challenges—like compatibility—or budgeting issues like time or cost. Fortunately, Syndigo's Enhanced Content is an "easy lift", since there is no site-building required. With just a few lines of code added to the retailer's site, retailers can open an enormous capability for their supplier partners to start publishing. It's a straightforward solution that gives participating retailers a big lift in sales.
How big of a lift? Here is some information by channel type. It is clear that every channel can benefit from enhanced content.
| | |
| --- | --- |
| Channel | Impact of Enhanced Content on Cart Rates |
| Baby/Juvenile | 105% |
| Club | 43% |
| Department Store | 93% |
| Drug | 84% |
| Electronics | 27% |
| Grocery | 46% |
| Hardware | 110% |
| Mass | 180% |
| Military | 82% |
| Office | 165% |
| Sporting Goods | 206% |
Source: Syndigo Enhanced Content aggregated data
And even though it's a straightforward implementation, Syndigo's Enhanced Content is more than a templated, cookie-cutter solution. We support a wide range of site layouts and online experiences, by providing several modules that can be combined to create unique page layouts. A retailer maintains control of their page layout and can decide what kind of Enhanced Content to make available. A few examples include:
Engaging Hero images: Either "hot spots" overlaying an image, creating space for call-out copy or other imagery to highlight a benefit; or an icon toolbar that highlights the different content types located on the product page.
Inline Enhanced Content: Rich media and creative imagery that is part of the scroll-through of the PDP, interspersed with the Core product content
Search and/or brand page implementations are also available and proven to increase basket sizes.
Product Page Implementations​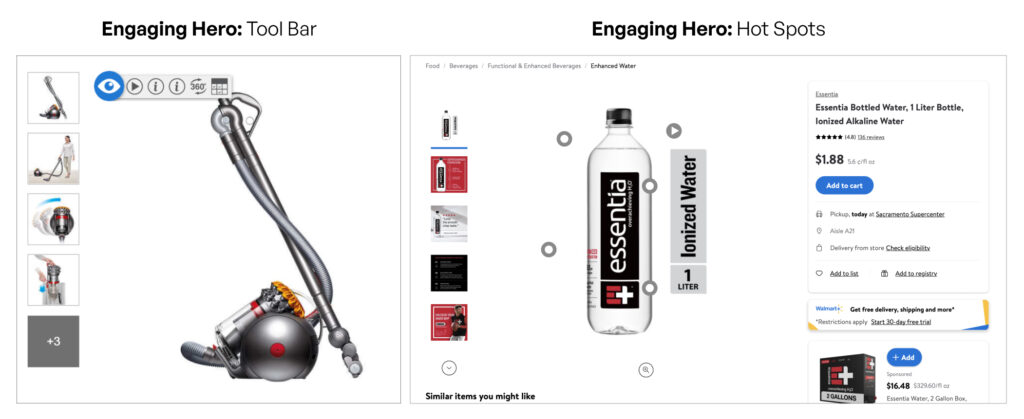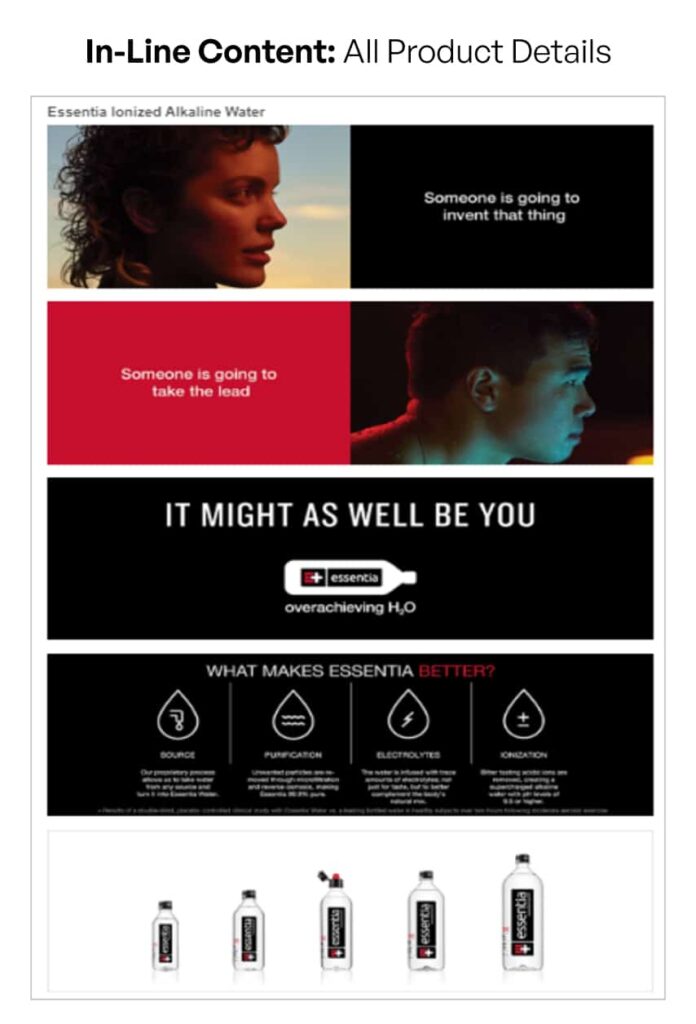 Site Page Implementations​
Want to see examples of Enhanced Content in action? Check out these Syndigo clients here.

Protect your site and drive greater trust online
A picture may be worth a thousand words, but that doesn't always mean it is compliant with the latest standards…
Syndigo understands that even though this content is coming from a third party source, this content is representing your site and brand experience too. We go the extra mile to ensure your site or in-app experience is protected against inaccurate claims, external links that take shoppers off your site, and Accessibility concerns. We validate every piece of content before publishing to your site to ensure it meets our date quality standards and does not put you at risk.
To ensure all shoppers can enjoy their experience, Syndigo has built our Enhanced Content program to adhere to the latest standards for the industry including ADA accessibility. Plus, there's no need to worry about formatting layouts for different devices, as Syndigo automatically adjusts content, based on the device type, to fit each screen perfectly. All these features come together to deliver the best site or in-app experience you can trust.
Delivering a measurable impact
Now we know that adding Enhanced Content helps to drive sales; however, knowing what content is driving those sales is the important element. To win at every shelf, you want to be able to measure how all your supplier Enhanced Content is performing. And you can, with Syndigo's analytics capabilities, get you deeper insight into the shopper interactions that are driving your conversions. Syndigo calls this "Converted Interactions".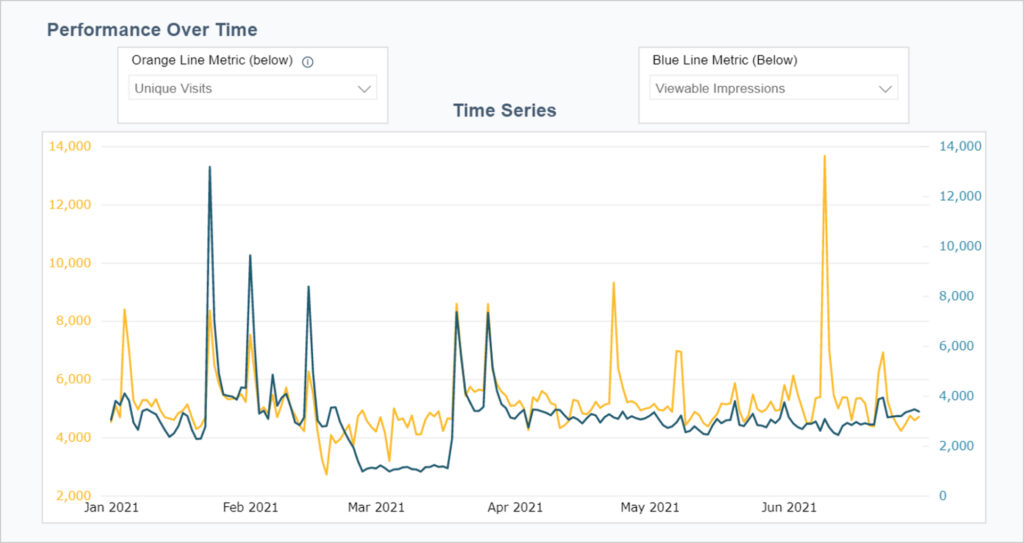 Uncovering insights around average cart values, revenue per visit, and average lift will provide retailers clear insight into the products that are driving the most activity and sales over time. Syndigo's analytics can help you understand brand coverage, shopper traffic, content engagements, and shopper conversion – across devices, timeframes, and content type.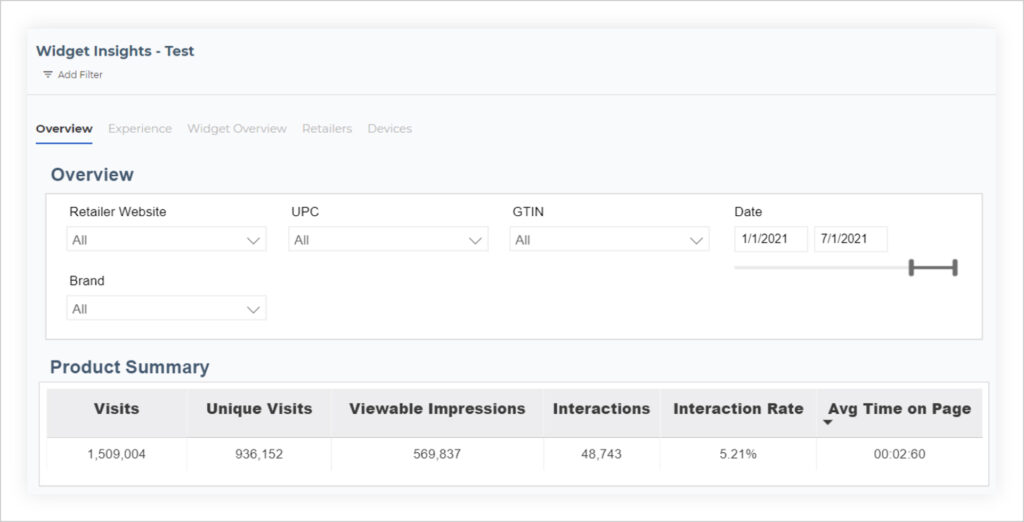 Selecting a partner you can trust
Today's eCommerce site is more than just a buying platform for shoppers. It is the bridge to the in-store experience, which strengthens the brand for both retailers and their vendor suppliers. To win in today's marketplace you need an environment that enhances the customer experience through Enhanced Content driven by rich media, which delivers measurable ROI while inspiring shoppers.
Serving more than 1,000 client installations globally, Syndigo has the expertise and ability to scale to the size of any retail or supplier Enhanced Content program, with an easy-to-implement process. Through interactive hotspots, inline content, comparison charts and more, Syndigo experts can help you build the best-in-class site experience you need to drive more activity and sales on your vendors' product pages.
Syndigo is the #1 provider of Enhanced Content assets to engage your shoppers, creating conversions on your supplier product pages. With more than six million product pages currently supported on retail sites, and more than 4.3 billion shoppers visiting Syndigo Enhanced Content pages annually, we have the scale and the flexibility for Retailers to tap into the vast number of consumers who are looking to buy the products you feature. Check out our Enhanced Content capabilities here.