Brands, especially in the premium and luxury segments, are increasingly prioritizing Direct to Consumer (D2C) models to establish closer customer relationships, build loyalty, and gain better control over sales and distribution efforts.
By cutting out third-party retailers and marketplaces have greater control over the customer experience and capture a larger share of profits. But to succeed in the D2C space, brands need to be able to quickly get new products to market, validate new product ideas, ensuring a seamless customer experience across physical and digital touchpoints, and maintain a delicate balance between D2C and traditional wholesale channels.
The key to executing on all these foundational elements lies in data and the ability to use it. With the right technology and processes, data mastery and D2C success are within reach for luxury and mass market brands alike.
Comparing Sales Channel Options for Brands
Broadly, conventional consumer brands have a few main options to get their products to consumers.
There's the Wholesale route; primarily through multi-brand/specialty retailers or marketplaces like Amazon. Then there's the Direct to Customer (D2C) path, selling straight to shopper through company-operated stores or eCommerce platforms.
that give a party access to a brand's product lines and processes. And of course, many brands employ a combination of channels; Gap and Zara are prominent examples of brands using hybrid models with their own company operated stores, franchised locations, and eCommerce sites that all contribute significant amounts to their bottom line.
Though there are plenty of exceptions, the broad outlook for how brands should look at Wholesale vs D2C channels can often be determined by what segment they operate in.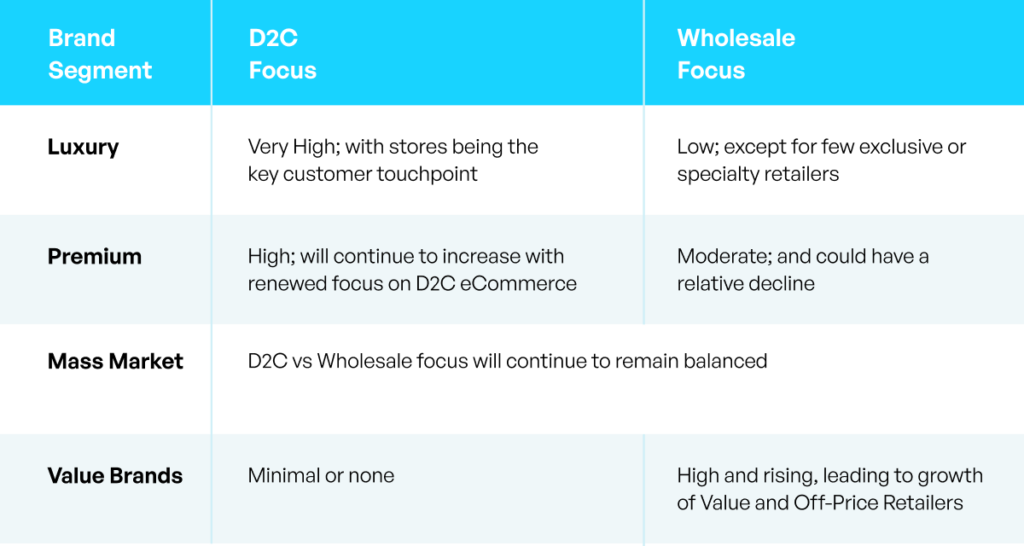 Prioritization to D2C Emerges for Established Brands
Brands, especially in Premium and Mass Market segments that have traditionally been focused on Wholesale, are increasingly prioritizing (D2C) models. That could mean establishing brand-owned brick and mortar retail outlets, or further developing an owned online store and shipping straight to the customer.
The driver here is customer centricity; building loyalty and having better control over the sales and distribution efforts. By cutting out the third-party retailer or marketplace, brands have greater control over the customer experience—and get a greater share of the profits.
This trend is visible with many high-profile Brands openly stating their intent to invest more heavily in D2C and establish a more direct line with their customers. For example, consider these recent excerpts from the Annual Shareholder Reports of some high-profile brands:
As outlined in our 'Own the Game' strategy, we will continue to invest into our business, with investments into our own retail stores as well as into digital, including e-commerce, making up the biggest part of capital expenditure."
Consumers are at the heart of everything we do. Therefore, it's critical that we drive consumer understanding, engagement and long-term loyalty across brands, channels and regions. We continue to deploy initiatives that respond to consumer needs across our owned digital platforms and store networks. This consumer driven mindset is a key investment priority across our business and is expected to support continued growth from our DTC channels."
For Luxury Brands – D2C Will Continue to be a Sales Channel
Prioritizing D2C is not a new strategy for much of the Luxury market. Major high-end brands like LVMH, Inditex, Kering, and Lululemon have a very clear strategy of having D2C as the primary sales channel, with strong focus on "company owned stores" as the primary medium for customer engagement.
It's not uncommon for brands in luxury segments to source 80% or more of their revenue from such D2C channels. As an example, for LVMH's premium Fashion and Leather Goods segment, 95% of the revenue in 2022 came from D2C in 2022 (called out as "Retail" below).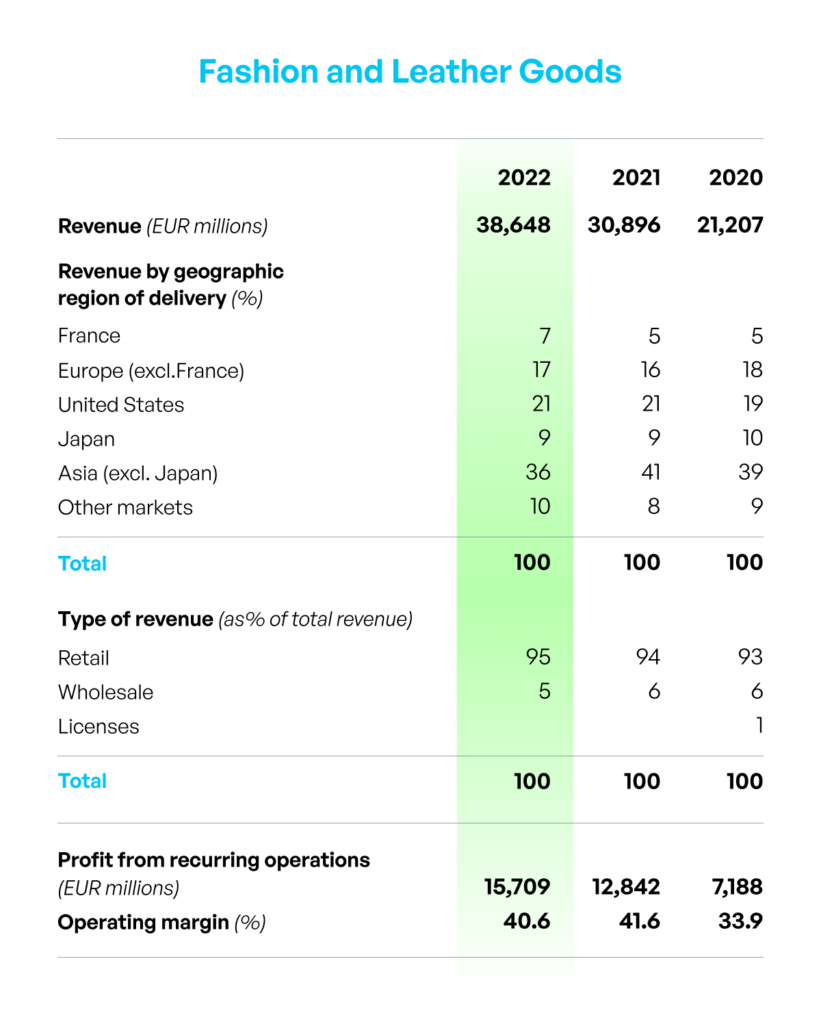 Source: LVMH Financial Documents Fiscal Year Ended December 31, 2022
For Kering, this number stood at 91% as of April 2023.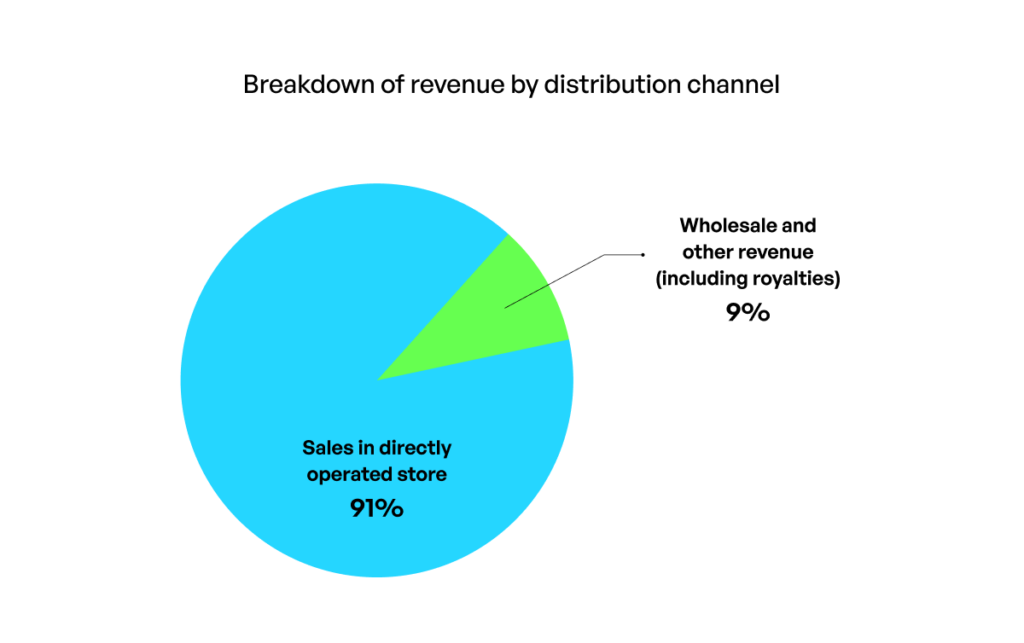 Source: Kering Financial Summary
D2C vs Wholesale: Striking a Delicate Balance
Ultimately, both D2C and Wholesale channels will play an important role for most established brands for the foreseeable future
Brands who thrive on exclusivity and customer centricity need more focus on direct consumer relationships. Failure to connect with customers on a personal level and make them feel recognized impacts the Brand's reputation and relationship equity. This is especially true for experiential Brands that rely on direct customer feedback and input to power their Product Development efforts.
However, Mass Market and Value brands may not find huge benefits through D2C and may in fact find it cost prohibitive. They need to avoid investing too heavily in a channel with limited viability, and will be better off focusing most of their efforts on developing presence and messaging through traditional wholesale channels.
The Formula for D2C Success
Marketing, selling and delivering straight to consumers is considerably different from the classic wholesale retail model. For any Brand looking to expand its D2C presence either through direct customer interactions in stores or through eCommerce, the following key capabilities are essential:
Introducing seasonal assortments quickly
Due to the seasonal nature of many businesses, it is imperative that rotating product lines with various new flavors, styles, materials etc. are refreshed in bulk. As an example,
Prototyping and validating new product ideas
Prototyping and validating new product ideas is crucial for businesses with a direct-to-consumer sales model because it allows them to reduce the risk of investing resources in products that may not meet customers' needs or preferences. By creating a prototype, brands can test the product's functionality and usability, identify potential issues and make necessary improvements before launching it to market. Validating new product ideas also enables businesses to gather valuable feedback from potential customers, which can be used to refine the product and optimize its features. This iterative process helps businesses create products that are tailored to their target audience's needs and preferences, ultimately leading to higher customer satisfaction, increased sales, and a competitive advantage in the marketplace.
A seamless customer experience across Physical (Store) vs Digital touchpoints
Building a customer experience consistent over physical and digital touchpoints builds brand loyalty and trust. Consumers expect a consistent and convenient shopping experience regardless of whether they are interacting with a brand online or in-store. By integrating physical and digital touchpoints, businesses can provide customers with a cohesive and personalized experience that meets their expectations. This approach also provides valuable data about customer behavior, which can be used to optimize their sales and marketing strategies.
Deep understanding of the customer journey
Deep understanding of the customer journey empowers brands to identify pain points and opportunities for improvement. Analyzing the customer journey from initial awareness to post-purchase grants insights into customers' needs, preferences, and behaviors. This information can be used to optimize marketing and sales strategies, tailor product offerings, and provide a personalized experience across channels.
PIM: The Critical Technology Needed for D2C Success
All these goals have one important thing in common: they rely on supreme mastery of data; especially as it relates to products. In pursuing growth through Product Information Management (PIM) technology and processes are supremely important.
PIM is a business application for managing content that describes the product – thus enabling all the customer interactions with your brand at any touchpoint: your brand's story, product descriptions, weights and dimensions, 360-degree image spins, product options and variants, or how all of it can be looked at in different languages.
It's a business-critical solution used by Merchandising, Digital, Marketing and Regulatory Departments (among others) to ensure product content is comprehensive, relevant and validated as customers interact with the brand.
Learn the Ins and Outs of PIM
PIM technologies excel in providing the foundation for D2C by offering a platform to manage all product information necessary to position and sell products. Coupled with a clear association of product styles to the desired customer touchpoint, PIM ensures the brand and product messaging is consistent across all D2C touchpoints. It acts as the single source of truth for all data, assets, and supporting content for every product, so customers will always get the latest, most accurate and most relevant product experience.
PIM is an effective tool for both Mass-Market and high-end Luxury enterprises. For instance, it's perfect for fashion brands that deal with constantly rotating catalogs, heavily seasonal assortments, and a broad selection of sales channels. As data management expert Credencys notes, PIM can effectively improve data accuracy, streamline operations, and improve the customer experience for fashion brands and mare.
Learn More: 10 Benefits of Implementing PIM for Fashion Industry
As the unification of Product to the Store/Web channels is managed in PIM, this data foundation unlocks important capabilities like BOPIS (Buy Online Pick up in Store).
Additionally, PIM technologies act as a backbone for a Brand's eCommerce initiatives by managing Style Options, Digital Assets, Size/Color Codes, Descriptions, and Fitment Guides.
A good PIM can also natively integrate with leading eCommerce platforms, decreasing technology complexity.
Working together, these technologies provide a foundation for everything an enterprise needs to thrive in a D2C environment.
A Word of Caution on Digital-Only D2C
The Digital D2C "boom" started in mid 2010s when started pioneering successful models that were mostly or exclusively Digital.
This was based on the broad observation that digital marketing and commerce is cheap, and companies can build brand awareness and attract customers digitally, thus serving their goal of being customer centric, also achieving higher margins in the process. In theory, this model avoids the costs and complications of building, staffing and maintaining retail stores and supply chains. As the pandemic forces some large retailers to scale down or adjust their strategies, it created space for many online-focused D2C brands to grow.
However, this approach has proven not to be a one-size-fits-all solution. According to McKinsey, pure-play D2C companies began to lose sheen due to increased growing marketing costs, higher product return rates, and increased regulations limiting directed customer marketing. According to the report: "Cracks appeared in the digital pure-play model. As DTC brands began going public, their stock prices began to suffer. The share prices of 10 apparel DTC brands fell by around 70 percent in the first three quarters of 2022, compared with the MSCI World Consumer Discretionary Goods Index's decline of 32 percent over the same period."
These challenges have prompted some brands that were founded on digital-first principles to start diversifying back into more conventional brick and mortar stores. Mckinsey specifically highlights an example that "Everlane opened its first permanent physical store in 2017 and now operates 10 stores across the US despite its founder famously claiming in 2012 he would "shut the company down" before opening a physical store."
This finding is further backed by Insider Intelligence that predicts that pure-play D2C eCommerce is a business model that cannot work for everyone without some sort of physical customer touchpoint.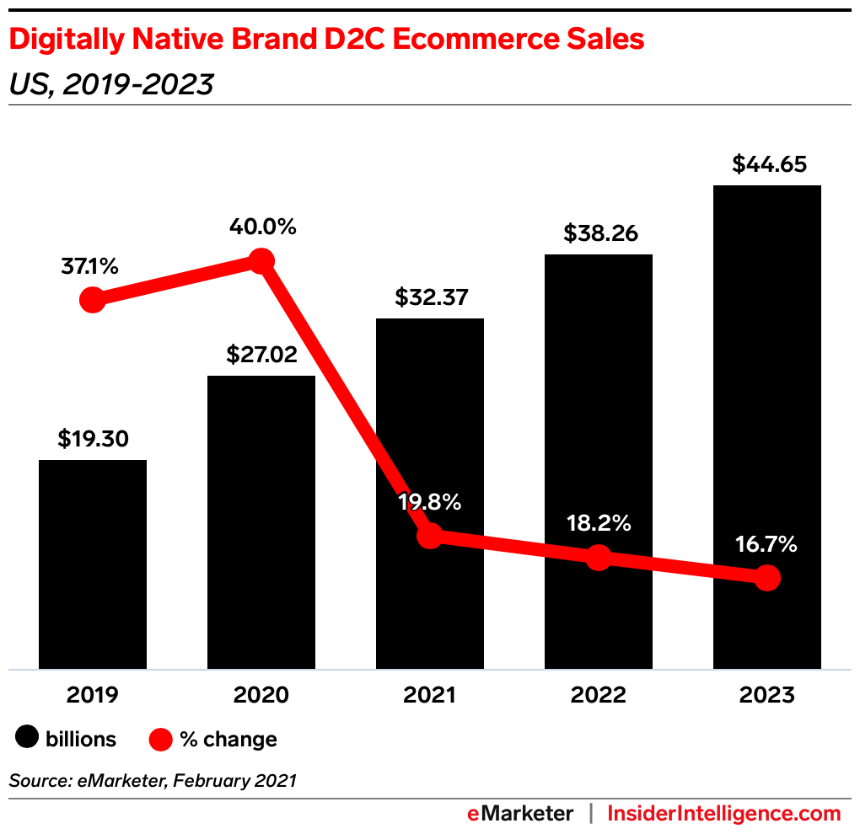 The fall in pure-play D2C companies' revenues and stock prices indicate digital-only D2C can't be an exclusive channel for all brands. Instead, it's important to know when and how to balance it with other sources of sales.
Once again, PIM can save the day.
PIM helps enterprises balance their focus between D2C and traditional wholesale retail by centralizing product information, customizing presentations for each channel, managing channel-specific product assortments, and providing valuable analytics and insights. With PIM as a foundational technology, enterprises can ensure consistent and accurate product data, cater to the unique needs of different channels, optimize product offerings, and make data-driven decisions to achieve an optimal balance between D2C and wholesale strategies.
Scale Your D2C Business
Whether your brands operates in premium verticals or serves a broader mass market, there's likely room for growth in your D2C relationships and revenue.
But while D2C offers advantages in customer experience and profitability, striking a balance between D2C and traditional wholesale retail is crucial. Data mastery and the use of technologies like Product Information Management (PIM) systems play a critical role in achieving this balance. PIM enables brands to manage product information, customize presentations for each channel, and gain valuable insights to optimize product offerings and meet the unique needs of different channels.
Ready to acquire or upgrade your PIM? Syndigo's solution delivers seamless connectivity between your product content and the customer experience—a roadmap to personalized, contextual content. Want to see it in action? Click here to get a customized demo.