Considering many of the big takeaways that have been shared around the NRF's Big Show, it's clear that as an industry, retailers more than ever are ready to embrace the changes confronting them in today's world.
As we come to the end of the first month of 2023, what we know is that emerging technologies are creating new opportunities—and perhaps challenges—for retailers and the brands that sell through them. Many exhibitors and presenters highlighted how emerging developments around smart technology, augmented reality, virtual reality, artificial intelligence, machine learning, and payments systems could change the retail landscape even further in coming years. The challenge is knowing which technologies will be important enough long-term to justify the investment.
ECommerce continues on pace
Even as physical stores constitute the bulk of retail sales, the future focus of retail continues to be virtual. ECommerce business is driving both brands and retailers to change the way they deliver their value to the shopper, as shoppers change the way they interact with products and services.
Online shopping is estimated to grow to over $1 trillion in 2023, and retailers must continue to create better shopper experiences. Brands, for their part, want the same thing, tied to their own unique positioning in the marketplace. Both want to inform their shoppers about the products they're buying and why they should buy from a particular store or site.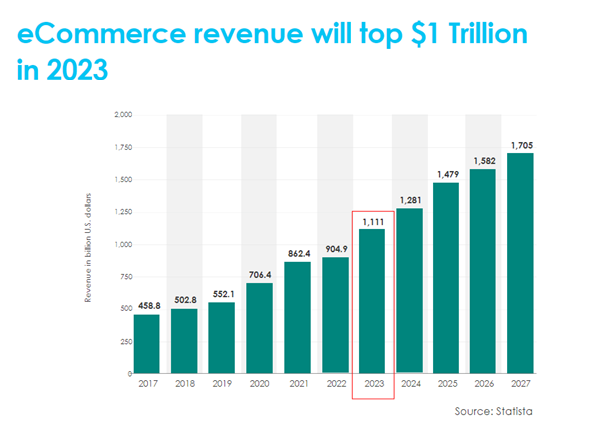 However, in-store shopping isn't going away. In fact, most shoppers are hybrid shoppers, either researching online and buying in store, or researching in-store if they buy online. Research firms highlight the fact that these omnichannel customers shop 1.7 times more than single-channel shoppers, which represents an attractive target shopper.
Ready for the future
Despite an image of being slow to evolve, the retail industry on display at the NRF Big Show seems ready to embrace a more accelerated future.
The NRF Big Show provided a glimpse into the vast variety of tools, technologies, and solutions that companies can access to be more effective in providing a better customer experience and, ultimately, greater sales. By providing a better understanding of shopper behavior (online and offline) and more connected capabilities, retailers and brands can meet the omnichannel shopper wherever they are and buy.
And this is a must, because the consumer is in control. Although they have always had access to products and services through multiple channels, now consumers are interacting across them—if something is not available in one outlet, chances are they will find another, or choose an alternative (which they are more open to doing than ever).
Strength—through completeness and connections
One thing that is more apparent, based on many of the ideas shown at the NRF Big Show, is that data is more prevalent now (and continues to grow). Whether through interactive devices, data connectors, or passive technologies, companies are collecting more and more information in order to study and incentivize consumers across the shopping experience.
In order for the technology to drive appropriate insights, the underlying data must be consistent and high-quality. This includes both being able to manage the data collection and inputs, as well as understanding the requirements for information to be shared to other data partners. However, it's no easy task. It can be a highly complex process, but a necessary one to ensure that brands are delivering the proper information for retailers to display on their eCommerce sites.
Watch Syndigo's NRF presentation: Break through the Clutter: Retailer perspectives on winning on every shelf
Which brings up a second key element that will help drive the evolution in retail: Connections. Every retailer has differing requirements for the same item. And each brand wants and needs to stay unique against competition. Together this drives an incredibly large process for data connections and information taxonomy. For context, Syndigo processes more than 25,000 changes per month on behalf of our retail clients as they update their data requirements. Understanding how the retailer structures data as well as what the brand delivers is a crucial component of maintaining content accuracy.
Finally, to ensure a continually successful program, the information also must be optimized for better results over time. This includes creating a flexible user experience that brands can use to experiment with in order to uncover the optimal facing that will drive the sale on that site. Having this sort of real-time performance monitoring, and variable testing, can help to close the loop to help suppliers break through the clutter and win on every shelf.
Moving in the right direction
The NRF Big Show is always packed with exciting innovations, and this year was no exception. This gathering was a clear signal that companies are embracing the evolution of shopping and retail, and they are looking for new ways that technology can help. There was excitement around the potential for growth and how to leverage data and technology to do just that.
Join Us at Our Next Event!
Syndigo looks forward to joining leading experts and innovators in commerce at premier events and tradeshows around the world throughout the year. Check out our events page to see where we're going next.