Three key thoughts for all industries
Shoptalk was "back" in 2022, and in a big way. Nearly 10,000 industry professionals came out to Las Vegas, to the theme of "Together", spending three days re-connecting and meeting new people, and learning about the new ways the industry was innovating to drive better business.
Syndigo was certainly there, and we had much to share as well. Our new brand refresh was one! But it was more than a splash of color. Our new identity, launched this year, was to highlight our place as the industry's first Active Content Engine, expanding and integrating our comprehensive capabilities from Master Data Management (MDM) and Product Information Management (PIM) to content creation, syndication and analytics optimization—all with the goal to drive sales across every channel, on every shelf.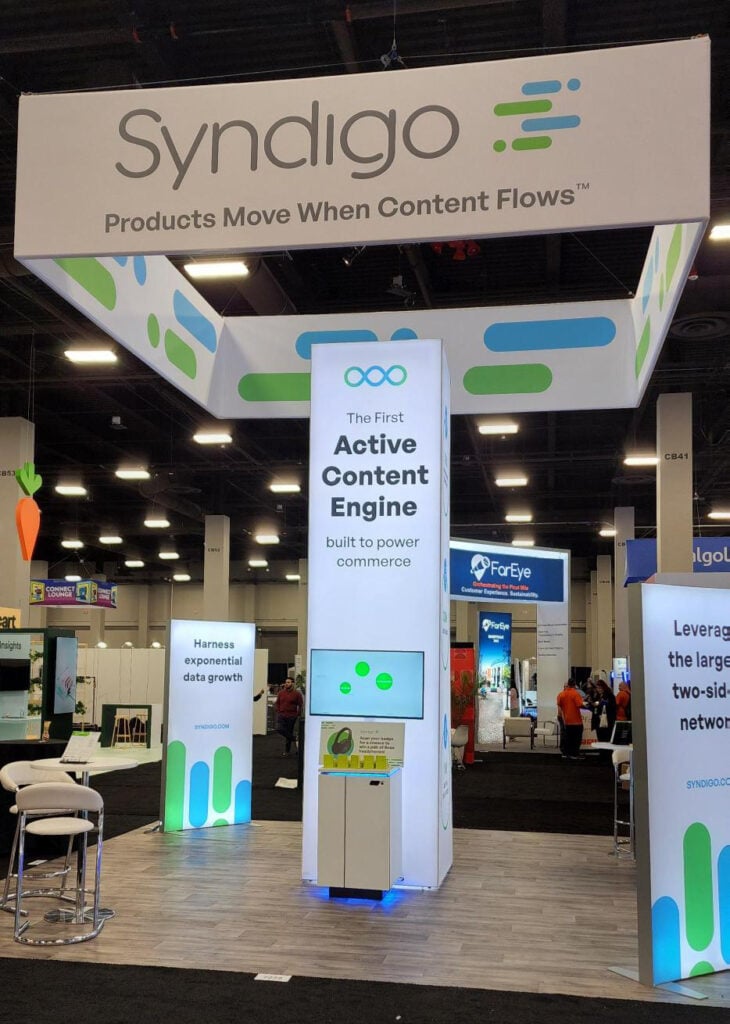 So much has changed since the last Shoptalk event. Both brands and retailers alike were out in force, learning how to maximize their businesses in today's real-time economy. We at Syndigo had numerous conversations around the challenges the industry faces trying to keep up and how we are uniquely positioned as leaders in the space to help solve these challenges. One thing we heard a lot was, "If only there was a way…"
It's why we have built Syndigo the way we have. And it's also why it is important to understand that these challenges (and solutions!) are applicable beyond the Shoptalk show, and far beyond traditional industries like consumer package goods.
Here is a quick highlight of some key thought-starters from the event. These points should be relevant to everyone, regardless of business sector. They are indications of the continuing evolution of business in a real-time economy—trends that will impact anyone needing to manage information and drive sales more effectively for their company.
Take a look and see how the following can apply to your organization and industry.
1. Personalization and unique experiences
We all agree: It's all about the customer experience. While it originally applied mainly to online environments, this term today refers to all touch points where a customer interacts with an organization (this can mean both a B-to-B customer, or the end consumer). We'll talk about consistency across platforms later in this piece, but the information that can enable unique experiences is critical today.
Personalization is incredibly important for the customer experience. Several Shoptalk presenters referred to "delighting the customer", which really boils down to giving the customer what they want. And it's data that makes personalization possible. From a product perspective, the number of different attributes and images that are captured, stored and tagged for use help to deliver a personalized experience on eCommerce sites.
However, the ability to create customer experiences that are unique for every shelf, site, store or mobile app are equally important. Brands and retailers both have a need to deliver an experience that supports their product(s). And while an eCommerce retailer may have a requirement for certain attributes, in a certain framework, brands also want to keep their overall positioning across individual products.
What is required is a flexible and scalable configuration of content that ties to a company's master data platform, while also conforming to external requirements for data pools, retailer sites and other online marketplaces. Leveraging a provider like Syndigo can provide such a flexible environment, by customizing data requirements internally while also leveraging literally hundreds of thousands of attributes across millions of products—with a system that checks content across more than 10,000 data quality rules, a million times per day.
2. Supply and Fulfillment Need Technology
We've heard about supply chain disruptions—whether it's through empty shelves, substitutions, import difficulties, or maxed-out warehouse capacity. It's clear that while companies are working through these issues, they are looking for longer-term solutions that can adapt to future unpredictable environments more smoothly. However, it is clear that technology—and the quality of data needed to drive it—were front and center of these presentations.
With the drastic change to supply and demand issues over the past few years, there was a focus by several presenters on elevating the supply chain in an organization as more of a customer-centric department…a profit center rather than a cost center. This ties to the need for customization and personalization, as well as point three below—the need for product transparency across channels.
Seeing as how companies lose more than $14 million a year from bad, incomplete, or siloed data according to Gartner, it's easy to understand that there is a real cost opportunity to getting the data right. And shoppers have too many options and too little patience.
Having the capabilities to harness the explosion in available data, across systems was an underlying theme. Fortunately, with a comprehensive solution that can connect product data to location and customer domains as well as organizational data, a company can configure their systems for a stable and scalable framework to manage internal data as well as through their supply chain—elevating the department to one that can drive the business forward.
The "last mile" problem happens to be a related issue, but more consumer-facing than supply chain. It's the challenge of ensuring product moves in a way that is both efficient and delivers a positive customer experience. At Shoptalk, some of the presenters made the point that deliveries are growing faster than similar transportation applications such as ride sharing. The behaviors that shoppers were required to undertake during the pandemic forced businesses to adapt, and in some cases, consumers liked the result. Expectations were set and will remain high.
Even with advanced technology like robotics and automation, the thing that ties it all together will be the data. Ensuring the product meets the expectations of the order, making sure that items are in stock and available, and being able to choose among a variety of options—all these things are driven by data. Having the ability to pull together exactly what a business needs, whether internal governance, content delivery, or performance feedback and optimization, a brand or a retailer can manage their information throughout their organization.
3. Unified Commerce
While many conversations at the show centered around finding a way to simplify how brands and retailers managed their business, there was also a recognition that business was expanding and becoming more complex. One keynote session of Key Takeaways polled the audience and found that 74% of participants were interested in new channels and new concepts around the "metaverse".
And that is in addition to the importance of the store itself. Many presenters and audience were also focused on the importance of physical stores—including previously online-only brands like Warby Parker—as part of the overall mix of commerce. And no one can ignore the strides that Amazon has made in recent years in developing storefronts.
So what does it mean? It means that whether you want to talk about omnichannel, metaverses, bricks-and-mortar, BOPIS, augmented reality or any other hot trend, brands (both manufacturer and retailer) are seeking a unified approach. They want their brand to be elevated and featured across any channel or platform, no matter what x-verse we're talking about. Which is why it's important to be able to harness the information you have and leverage it across the platforms you need, with control along the way to ensure data quality.
We hope you agree that these three major trends are key elements for driving business in your field. If you happen to be in London for Shoptalk Europe in June, make sure to stop by and say hello. And please reach out to your Syndigo representative if you'd like to learn more about how an Active Content Engine can help you drive better business results: Active data, constantly flowing internally, externally and back, with optimized information being added; across all Content—internal, external, master data, product information, digital assets, Enhanced Content, digital shelf performance data; in an Engine that powers information from and for all participants—integration between enterprise systems, connecting and enabling collaboration between internal and external teams, closing the content loop to fuel downstream systems.