Retailers and suppliers have been rapidly pivoting to meet shopper behaviors of the digital era. After all, with growing eCommerce activity comes stronger consumer intent, meaning people know what they're looking for and how to find it quickly (which will determine whether it fits their needs just as quickly after purchase).
While traffic patterns can vary across retailers, we've observed at Syndigo that 40% of product detail page (PDP) traffic, on average, comes from retailer website searches alone—meaning now is the time for retailers to ensure those PDPs convert and that their customers have long-term satisfaction.
As you think about how to improve your PDPs, level-set by thinking about your goals. Of course, retailers have many top priorities they're focusing on to win in the industry, but a major theme, unsurprisingly, is conversion. If you're enabling suppliers to provide product content that is complete, compelling, and engaging, it's more likely to sell. A basic rule of thumb is content = conversion. Is the conversation you're having with your customers complete? Is it helpful? Will they return to your site not only for your pricing and assortment, but to research as well? Being a one-stop-shop for prime content earns trust and establishes loyalty, driving impulse and recurring sales with your shoppers.
But accuracy is paramount to sustaining those sales. Without accuracy in the PDP content, you're more likely to see disappointed purchasers and item returns. According to the GlobalWebIndex, detailed and accurate product descriptions lead to a 42% reduction in returns! This is where analytics come into play in a big way. VendorSCOR is the solution for assessing PDP content effectiveness on a big scale: what works and what doesn't. Below are some handy tips for retailers to use these analytical tools to their advantage, as it ultimately relates to preventing returns.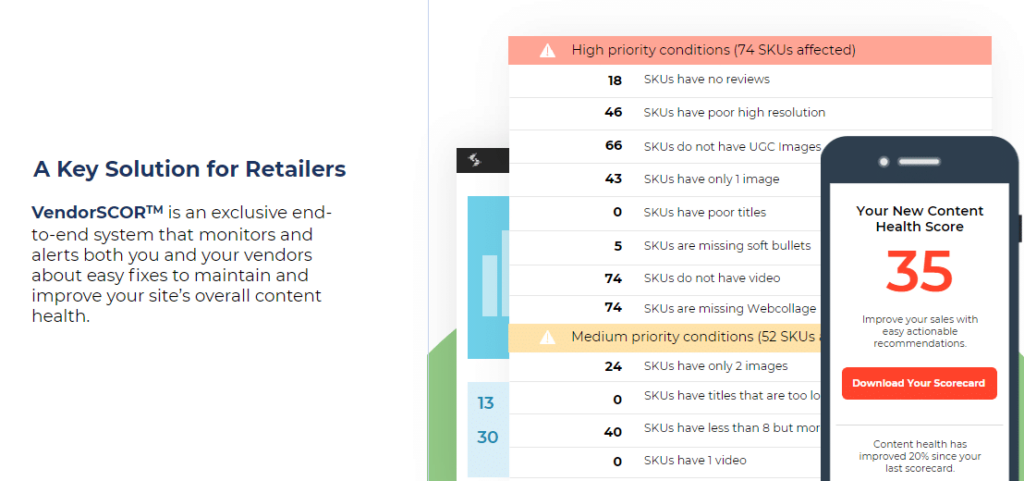 What to consider with existing customers vs. new ones
In order to effectively use analytics to your advantage, it helps to segment your goals by shopper type. For instance, are you catering to existing customers who used to regularly come into your stores but are now used to webrooming? The COVID-19 pandemic brought this tactic out in a lot of people (I.e., shopping online to research a product more in-depth and identify competitive price offerings).
Alternatively, maybe your strategy is to acquire and keep new shoppers. In that case, how are you keeping up with other retailers in your space? Is price the main factor, or are you offering more engaging content that better conveys the product experience? For those new shoppers who may not have visited your store before (or at least not regularly), think about how you can strongly simulate the in-store experience to not only draw sales, but draw them to your physical locations. Consider what prevents consumers from visiting your competitors both in store and online, and capitalize on that.
Once you have a handle on who you're targeting and your product content strategy, it's time to circle back to sustaining that success by ensuring long-term satisfaction.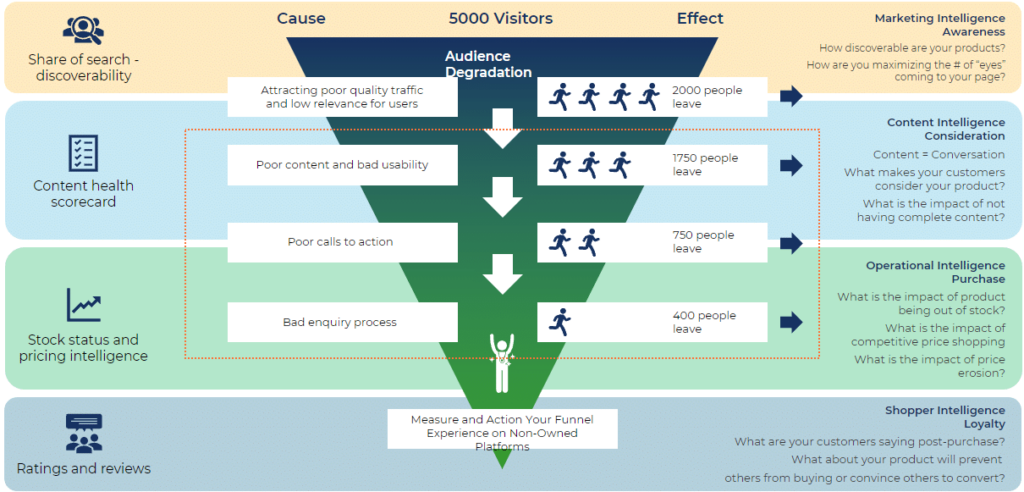 Reviews + content working together
Think about your key categories and your key items. What is the rate of return on those brands and products? Better yet, how can you encourage your suppliers to also think about that statistic more strategically?
When retailers and suppliers look at returns, their first inclination is likely to ask, "Why?" Perhaps the product just didn't meet expectations—but that statement alone isn't enough to facilitate improvement. Consider how customer feedback can be some of the best education out there for reducing returns. This education is not only for the retailer and manufacturer, but for the rest of the shopper community!
Featuring customer reviews directly on a PDP gives shoppers insight into how well the product fits into other people's lives and how likely true satisfaction will be. In fact, 79% of consumers say they trust reviews as much as personal recommendations. A few examples of helpful customer reviews are:
"This universal remote is not really universal."
"There's a lack of nutritional information on the can."
"It's unclear which devices this Electronics item can connect to."
"The sizing chart doesn't reflect kids' clothing."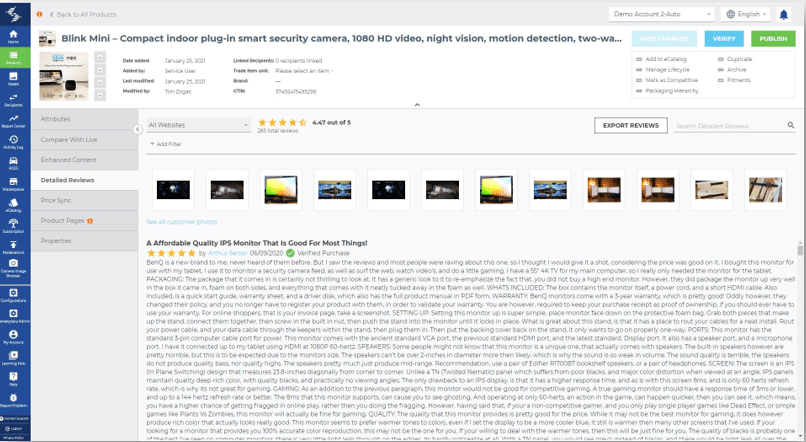 By incorporating reviews and content analysis together via VendorSCOR, retailers position themselves to gain relevant insights, share those insights with suppliers, and enable the recommended improvements.
Remember that impactful eCommerce strategy isn't just about conversions alone—it's about making sure those conversions stay. Don't wait any longer to take action on reducing return rates! You can maximize that search traffic that's bringing shoppers to your PDPs by equipping suppliers to publish the best content and shoppers to make the best decisions.