You have been tasked with selecting a Product Information Management (PIM) solution for your company. The pressure is on—how do you select the optimal PIM solution for your organization, with flexibility for evolving business needs? With the many different solution providers, configuration options, and sometimes confusing terminology, there are some important elements to bear in mind.
First, PIM solutions have evolved over the past decade. Originally designed as on-site, custom-built platforms for solving basic data management functions, now PIM can be cloud-based and integrated into processes across the enterprise in order to drive critical business intelligence and insights—turning data into an asset for the organization.
This evolution has added to the confusing array of options available. According to the latest Gartner® Market Guide for Product Information Management Solutions,
Multichannel commerce places a substantial burden on data and analytics leaders.
Often there is confusion as to the differences between PIM, Master Data Management (MDM) and Digital Asset Management (DAM) solutions.
The PIM market is difficult to grasp due to the proliferation of solutions both from established and emerging vendors.1
This vast landscape of technologies, approaches and providers can make it difficult to find the right solution to help businesses build and manage their product information to meet the many demands of the organizations—and to drive a better customer experience.
To deliver the optimal PIM solution for your organization it is important to define the organizational scope and objectives for implementation; identify the business owners that must be involved; and determine the appropriate partner(s) for implementation. With today's fast-changing business environment, it makes sense to consider a cloud-native solution that can operate flexibly and reliably, with less company overhead.
Once the basics are in place, it is absolutely critical to focus on the data itself. Consider how your business currently manages its data.
PIM Supports Data throughout the Enterprise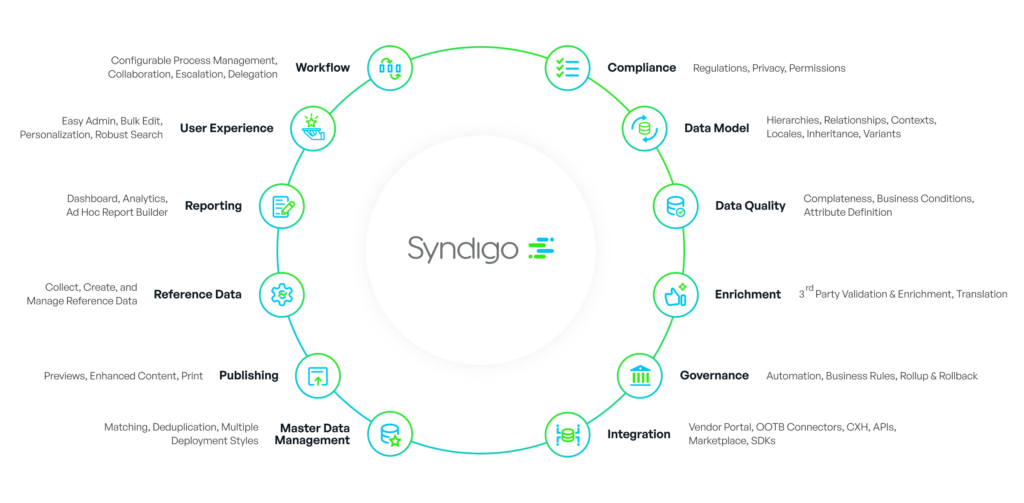 You must assess your current business processes and measure them across the information supply chain stages: data onboarding, data management, and data distribution. Following are some highlights for each.
Once the basics are in place, it is absolutely critical to focus on the data itself.
Data Onboarding – The Input
Most businesses of any size are aware of the common data challenges they face, whether it is maintaining and updating multiple spreadsheets, managing supplier information or product details, and perhaps most important, data onboarding. Since implementation of a new PIM can take quite a bit of time, it is critical to find a solution that has a pre-built, seamless data onboarding capability, which allows for much faster uploading and digesting digital assets and product information, which shortens the onboarding timeline.
A PIM solution also should include a supplier portal that enables collaboration to improve the flow of data and communication during the on-boarding of product information between a business and its external vendors. The supplier portal should also maintain product catalogs and allow for exponential expansion of product offerings.
---
TCO or TBO?
In planning for PIM installations, organizations often have to justify their investment to the business by outlining the Total Cost of Ownership. While this is an important measure, some organizations are also incorporating the Total Benefits of Ownership in the equation – the productivity gained, the potential growth of business due to better sales, etc. Here is a conversation between Syndigo and one of our implementation partners to discuss the TBO approach.
---
Data Management – The Throughput
After a business sets up a robust system to receive product information from multiple sources, the next challenge is data management. To provide up-to-date content for internal systems as well as a positive customer experience, it is imperative that a business maintains rich and accurate product information.
An optimal PIM solution should enable an internal enrichment process flow for easier collaboration between various internal groups. For example, a change in product dimensions from an engineering team should feed into the system so that other departments like marketing, operations or transportation have this information updated in real-time. In addition, a good process flow ensures that once product information is received from external suppliers, the internal teams can collaborate to enrich it further with marketing attributes and pricing information before it makes its way online.
As multiple teams enter and access product information, applying governance systematically is essential. Setting data quality and completeness standards is a necessity today, given the incredible number of product characteristics and the vastness and variety of uses. A well-designed PIM solution will enable a business to set data standards internally, with built-in intelligence to assess data quality against those standards, as well as conforming to external data requirements when delivered outside the organization. These tasks are not efficient when organizations rely on manual processes to review the accuracy of information.
If you plan to distribute your product information to marketplaces or other B2B2C platforms, there should be an additional consideration: a data enrichment function or layer.
For example, assume your PIM contains the specifications to distribute product information to industry standards like GDSN. However, one of your key eCommerce outlets also requires other stylized content assets. Having access to data enrichment – especially with a vendor that can also build your PIM – can have a large positive impact on the total benefit of ownership.
Data Distribution – The Output
Data Distribution is the final stage in the information lifecycle. Companies need to connect both with internal departments as well as with external eCommerce platforms, marketplaces, and retailer or distributor recipients. When a PIM solution communicates directly with information endpoints, it automates the process removing the need to manually send files to those channels.
A PIM solution should enable the distribution of data downstream, such as to ERP systems, and to third-party online channels. The way to enable this is to ensure that your PIM has integrated syndication capabilities to ensure a proper handoff between the interfaces in order to reduce time and the risk of incomplete or incorrect data. For more information on the importance of syndication in today's multichannel, omnichannel, real-time economy, check out this post.
Your task of selecting a PIM solution does not need to be an overwhelming exercise. Although there are many options, the tasks of data onboarding, data management, and data distribution are the core things that must be addressed. In addition, cloud-native solutions have the capability of being implemented more quickly while still being customizable to your business. Finally, do not overlook the importance of connecting your PIM distribution points through a partner that can provide seamless syndication of your information, in the proper format and taxonomy for each of your data recipients.
Interested in learning more about PIM? Click here to download Syndigo's PIM eBook.
1GARTNER is a registered trademark and service mark of Gartner, Inc. and/or its affiliates in the U.S. and internationally and is used herein with permission. All rights reserved.
Gartner does not endorse any vendor, product or service depicted in its research publications, and does not advise technology users to select only those vendors with the highest ratings or other designation. Gartner research publications consist of the opinions of Gartner's research organization and should not be construed as statements of fact. Gartner disclaims all warranties, expressed or implied, with respect to this research, including any warranties of merchantability or fitness for a particular purpose.