Think about last time you went shopping. Did you do it all online or did you go to a physical store? If you went to the store, did you venture inside or have things brought to your car? Did you consider new or different brands you hadn't considered before?
The way we shop has changed. It's due to many factors—increasing prices and inflation, the global supply chain being disrupted, continued labor challenges—plus the convenience of how products and services are delivered. For an organization that is central to delivering the customer experience across manufacturers, retailers and distributors through ecommerce and in-store, from a Syndigo point of view it's clear that these changes have become a part of the new commerce landscape.
These challenges and disruptions have created positive outcomes as well. Companies that have thrived have adapted quickly to these marketplace changes, becoming more flexible and offering customer-centric options for how shoppers could find or buy their products. This has created a new ecosystem that favors speed and availability—what we call the "real-time economy."
In this new world, the customer has more choice. In addition to shopping in-store, they are used to finding, purchasing and receiving products at their doorstep. It goes beyond Amazon's same-day delivery. Think about the new formats of shopping, including BOPIS (buy online, pick up in store), or Buy Online, Have Someone put it in Your Trunk Directly or delivery by a ride-share company or professional shopper.
And shoppers are embracing the choice. Recent consumer surveys by McKinsey for example, showed that in the US, 75% of shoppers tried a new store, brand, or different way of shopping during the pandemic. Even more, shoppers have shown a willingness to move away from once-preferred brands in favor of new ones that offer value or novelty.
This means that consumers are more open to variety; therefore, the brands that can find ways to meet consumers where they are in their buying journey can benefit.
The "Loyalty Shake-up", as McKinsey calls it, is driven by several factors including seeking more value (perhaps due to inflation) and the availability of products (caused by demand and supply chain issues). Brand "purpose" also has become less of a buying factor, while novelty has risen – so people are more willing to take a chance.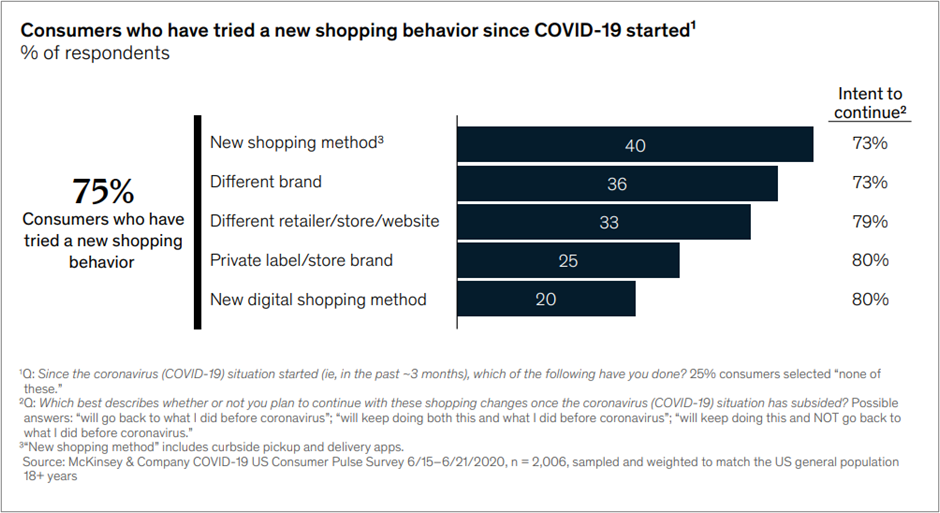 So how can companies today keep up? Do the tools they have today meet the new requirements for today's real-time economy, or are they feeling the strain? How can companies find the right tools to meet this need? And what questions should they ask their providers?
Based on observing our more than 15,000 manufacturer, retailer and distributor clients, we have come up with a few tips that companies must manage around, and some considerations when choosing the product content and data solution that meets your customer demands.
Tip 1: Understand Shoppers are in control
Brands and retailers may think they are in control of their products, but in reality, they are not. If the item is not in stock, a shopper likely won't wait or look for a "rain check." They will instead jump to another search or buy a different product. And they're doing their homework. According to Statista, 62% of shoppers today search for product information before they buy and 9 out of 10 actually read product reviews, according to Trustpilot. Throw in average cart abandonment rates near 70% and it's easy to see that while being online gets sellers more exposure, it also puts the power in the hands of the shopper.
This means you need to put information in the hands of the shopper. Not just product descriptions and pictures; in order to get a connection, you have to engage. Using rich media Enhanced Content combined with Core marketing descriptions generates an average of 90% lift compared to a product page with only Core content.
Tip 2: Drive trust through consistency
Think about it: Every product has its own weight, dimensions, colors, flavors, ingredients, usage requirements, nutritional or dietary specifications, manufacturing locations and hundreds of other characteristics, plus images (from multiple angles), usage examples, advertising videos or glamour shots, 360-spin imagery or additional content overlayed on "hotspots" around a picture of the product.
There are easily close to 250,000 different attributes that can be used to describe a single product. And some of these attributes simply will not have the same syntax, word order or grammatical requirements based on the different retailer platforms. Syndigo publishes more than 620,000 of these items per day on behalf of our brand clients.
Further, these requirements also change almost daily, based on what each retailer needs for their datasets and how they maintain or update their systems. For example, Syndigo monitors and makes an average of 25,000 updates to retailer requirements for our supplier clients per month. How efficient is doing that manually or in house?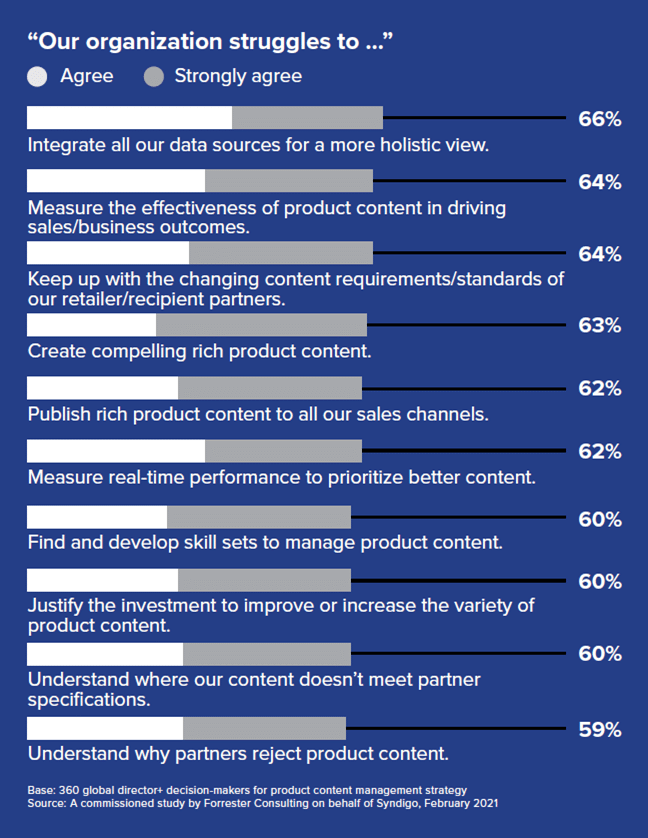 Despite many companies' best efforts, there is a lot of incorrect or poor-quality information out there, including:
Missing or lackluster images
Inaccurate or missing product details and specifications
Missing ingredient information or incomplete dietary information (kosher, vegan, paleo, gluten-free, etc.)
Customer reviews (Are there enough? Are enough positive?)
Simply put, a "single source of truth" requires much more flexibility and data than it may at first seem.
All of this can erode consumer trust. According to Gartner Inc., companies lose more than $14 million a year on average from bad, incomplete or siloed data. Multiply that by all the companies selling products and it's easy to see why getting the data right matters. Shoppers have too many options and too little patience.
Tip 3: Understand the true needs of syndication
Even when a brand's product information is complete and accurate, there is another step—the retailer or marketplace. They have their own unique requirements for displaying the information on their sites, and if it doesn't meet their standards, you might not get your product listed on the first page, or at all. Whether it's the proper format of a product's title, to the order of descriptions, to capitalization of letters, each site may have a slightly different requirement.
So as a brand, you have a choice: to manage all this information by retailer, on spreadsheets or other internal files, keeping them up to date and exporting them as required, or you could build a Product Information Management (PIM) solution within your company and send the data to each retailer in the format required (API, FTP, flat file, etc.). Both options have their benefits, but there is a commitment of time and process that must happen for it to work well.

As mentioned earlier, Syndigo can take much of that headache off the plate of brands through our data quality checks, data management, and syndication. By engaging a solution partner that can capture and connect your product information to the retailers you need, you can ensure more effective data management with less hassle. This is the more modern trend for today's real-time economy, as a brand can get up to speed quickly with the confidence of knowing their information will meet the standards of every one of their retailers, with the ability to scale as their business grows.
Making the most of content in the real-time economy
We recognize, it's tough work—constantly evolving retailer requirements, against the already challenging task of maintaining a brand's relevant product information, in a market environment that is constantly changing based on shopper wants and needs. It's not an impossible task, however. Here are three things to consider to help brands navigate this dynamic area of commerce.
CONSIDERATION 1: Understand your ecosystem
The reason that product information requirements have become so complex is that the data is used for many different purposes. Weights and dimensions, for example, are critical not just for monitoring shelf space in-store, but also in the supply chain, because it affects shipping, storage, and direct-to-consumer shipping costs. And accurate labeling ingredients on food items can be a matter of critical health and safety for people with serious allergies or dietary requirements.
As mentioned earlier, Enhanced Content—the rich media and creative imagery that drives customer engagement—is one more type of content that is considered "table stakes" for online product pages, because it is what drives significantly more conversion. For example, Syndigo analyzes more than a billion online product pages every year, and we see a lift of as much as 90% for product pages with Enhanced Content compared to those without.
The point? Your content must be fit for purpose, and it's not a simple left-to-right equation of input and output. It really is an active content ecosystem, with requirements changing constantly across retailer and supplier partners, with feedback loops that highlight complete and effective information (and the content that doesn't meet the standard). Knowing the type of data that is needed, when it is needed and where it is needed, requires continual effort and constant updates.
CONSIDERATION 2: Ensure your content is connected
The real power of information happens when it connects to other data to reveal new insights. One way to achieve this is by linking data across variables or domains. For example, while it is critical for a manufacturer to know how many product units they have, what gives that information power is to understand where that product is physically located, what stage of completion it is in, whether it is in a customer warehouse or retail outlet, and where new items are heading.
These connections are often created through Master Data Management (MDM) solutions, which look to create a "golden record" of information that operates as the ultimate source of reference. Combining data across domains provides insights that give business owners the power to make decisions effectively.
There's another, equally important content connection for selling online or in retail stores, and that's the syndication element. Most retailers have unique product information and formatting requirements for images and data that must meet their standards. If not, the item may not be listed by the retailer (or at least, placed below items that have complete information).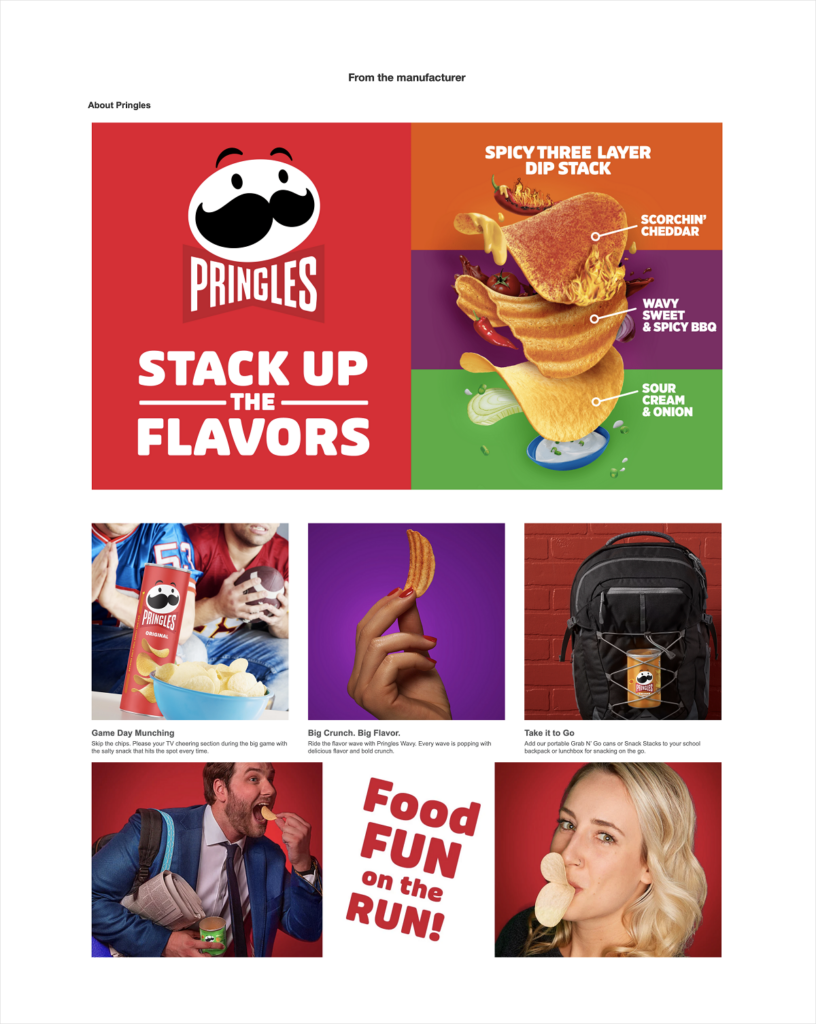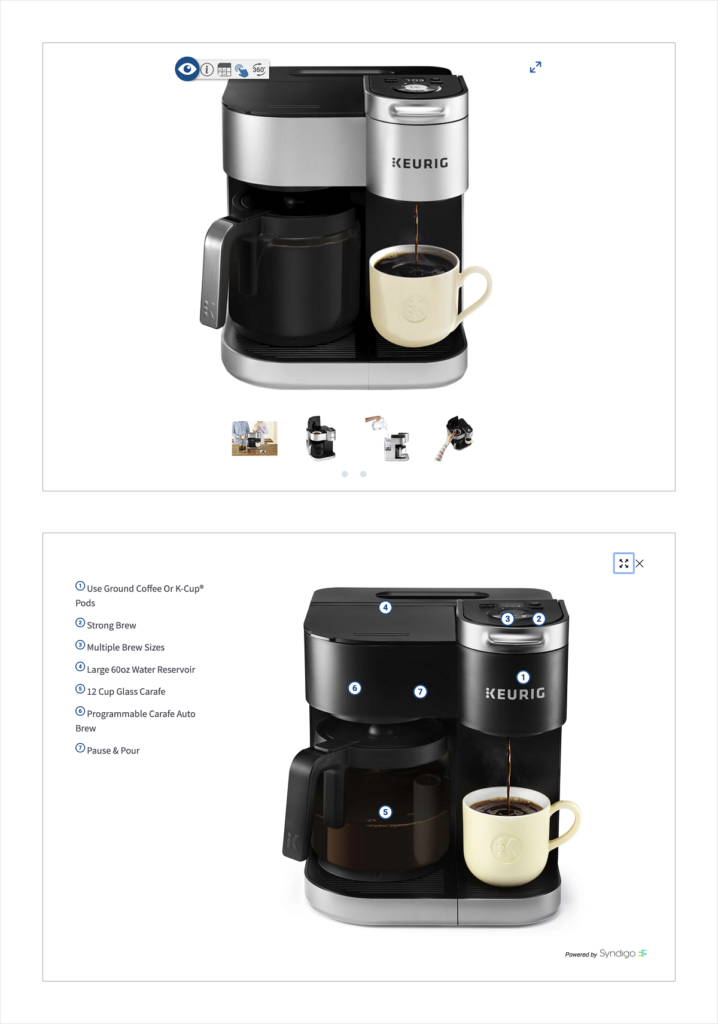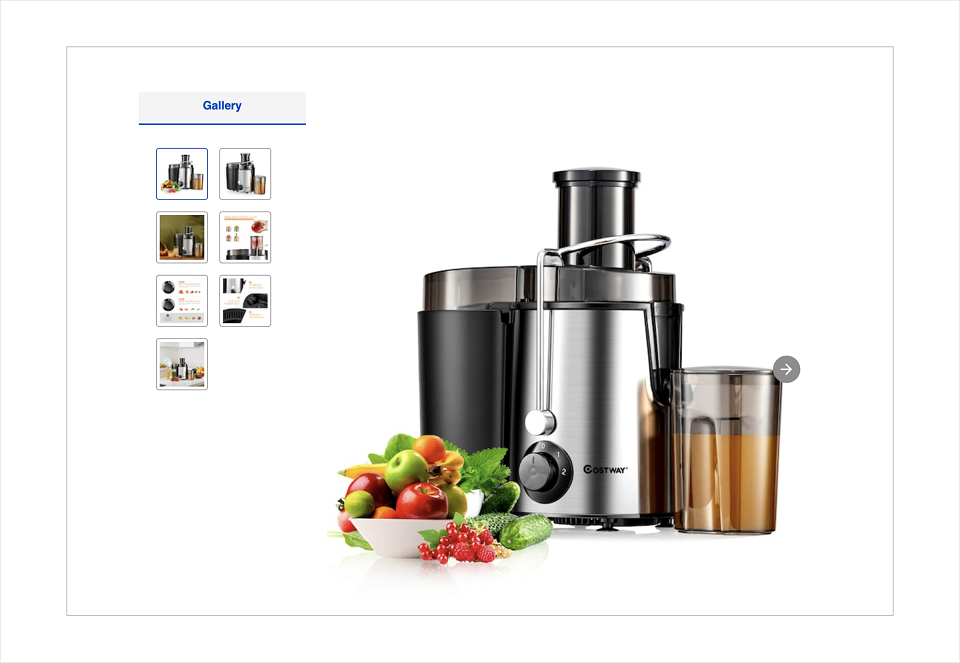 For a manufacturer, knowing these requirements and keeping them up to date is crucial for eCommerce sales. It also impacts efficiency of stocking items on the physical shelf due to the data needed for shelf planning software. At Syndigo we manage as many as 250,000 attributes per item in order to meet every retailer's requirement. Having a solution in place to ensure your content can connect to where it needs to go is critical.
CONSIDERATION 3: Optimize your results
With today's fast and furious pace of commerce, it may seem like an impossible task to measure the outcomes of the information, much less analyze it and make it better.
Thankfully there are ways to do this. With content that is featured on websites, it is possible to track the performance of different pages and highlight the types of content that are performing better than others. For example, we know a product page with Enhanced Content combined with Core marketing information almost always performs better than one with Core content alone, but the type of content—whether it's a feature image with marketing hot spots for more information, or a 360-spin image, or stylized usage photos—also has an impact and can be different based on the product.
Being able to rapidly assess your product page content, then modify it to optimize your performance, has a positive effect on sales. And by integrating these analytics back through content ecosystem, you can continually optimize for the best results, delivering more improvements in content integrity and content engagement through a perpetual feedback loop.
Shift in Real Time
With the events of the last few years—a global pandemic, new buying options, and challenges to the supply chain—shoppers have shifted to expect that they don't have to wait to get what they want. For brands and retailers to be successful in today's real-time economy, accuracy in information is central to managing risk and driving more sales.
Because although shoppers are ultimately in control of the sale, both brands and retailers can embrace this opportunity to be prepared—to understand their shopper behavior, to offer the things that consumers want, when and where they want them. With a bit of planning and a good data partner, brands and retailers can together deliver a winning customer experience.