The results are in…
As more companies begin to report their recent earnings, it reinforces what earlier data indicated: the pandemic-related closures and social separation policies did positively increase online shopping and purchasing behavior. Many retailers listed growth in eCommerce activities as helping their performance, even with the additional costs related to staffing and protection in response to COVID-19. Since many of these companies are also Syndigo clients, we have also seen a correlated increase in interest and activity in enhanced content which helps drives online sales.
Many of the country's largest retailers showed strong online growth, with Walmart detailing a 74% increase in eCommerce sales, even as comparable store sales also grew by 10%.
Big box retailer Best Buy showed a whopping 155% increase in comparative online sales, driven by both more online traffic and higher conversion rates. eCommerce sales now make up more than 40% of Best Buy's sales in the US. And Target, with its mix of food, apparel and hardlines, also saw a surge of 141% in eCommerce sales, with 10% same-store growth as well. Target has been strengthening their digital strategy in recent months, and the efforts appear to be paying off.
Lowe's also reported strong gains, with their Lowes.com site being up 80% for the quarter, and 11% overall. Costco increases online also outpaced their same-store sales in the US, but more moderately: 5.7% increase in online to a 5% growth in store.
While Albertsons' quarter began in March, it was coming off strong January and February performances. However, eCommerce spiked significantly in March at 109% and even more in April, as the retailer augmented its store personnel to accommodate more product picking.
The trend in eCommerce becoming a larger portion of retailer programs and sales is not likely to slow down soon, especially with hybrid models such as Buy Online, Pick Up In Store (BOPIS) also continuing its strong growth trend. Adweek cited a recent Adobe study that showed BOPIS activity growing three-fold in just one year.
It is clear that the retail leaders are committing their efforts to growing their online profiles. And they continue to invest and optimize their eCommerce experiences to deliver the most engaging content for their shoppers. For brands to succeed on these powerful retail sites, they must ensure their content is complete and accurate, delivered directly to the retailer in their specifications.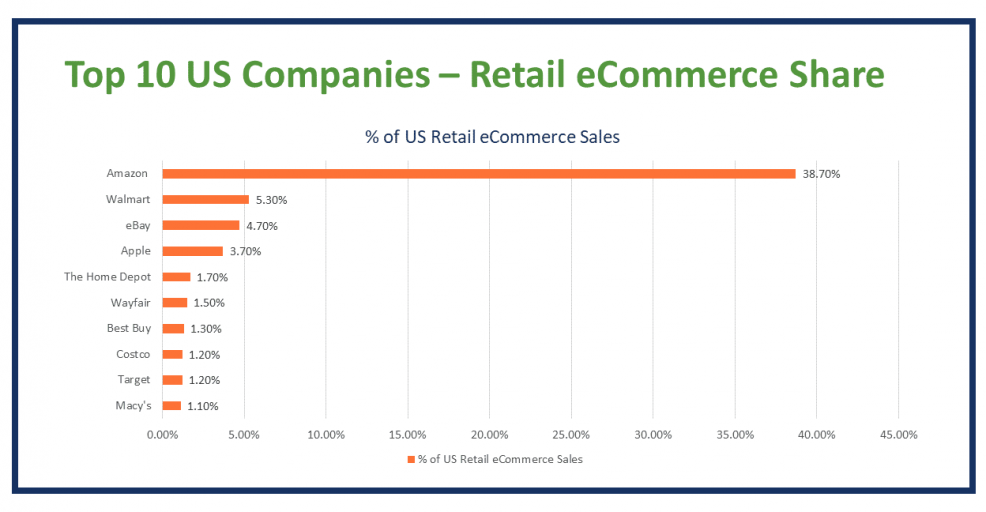 Note: represents the gross value of products or services sold (browser or app), regardless of the method of payment or fulfillment; excludes travel and event tickets.
Source: eMarketer, Feb 2020
With Syndigo's end-to-end content creation, management, syndication and optimization capabilities, fortunately brands and retailers can deliver engaging product experiences that converts into sales.
The Way Forward
It will be interesting to see how these behaviors play out in future months; as communities begin to open up to more "in person" activity, will shoppers want to enjoy their new freedom and visit stores in person, or will they wish to stay remote to avoid crowds (and possibly add convenience)?. We will continue to monitor the industry activities, but for now, the surge online does not appear to be slowing.
Other factors will need to be considered, however. For example, with high Depression-level unemployment numbers, many shoppers will be limiting purchases to only the necessities, and will be extremely price sensitive. Adding to that the recent human rights protests across the US, and fear of a secondary pandemic relapse are all reason to pay close attention to the data. On the other hand, with all the change that has occurred in the past six months, the relative consistency of online shopping and delivery (or BOPIS/click & collect) may be a new strong point for the industry.