Last year was a year of retail revolution. In addition to online platforms expanding brick and mortar footprints, "last mile" providers, and checkout-free concepts at the beginning of the year, the major restrictions brought on by COVID-19 provided a hub for experimentation on a grand scale. Brands and retailers were forced to adapt to the new reality of what shopping meant. And consumers adapted to — and leveraged — online shopping in a major way. According to the US Census, eCommerce grew 37% in Q4 2020 compared to the same quarter last year.
Since the pandemic hit, we tracked activity across nearly three billion product page views over hundreds of retailers and noticed interesting trends when it came to shopper behavior.
The COVID Spike: Survival of the Fittest (Shoppers)
In early 2020, like typical years, we witnessed the anticipated fall-off in shopper activity from the 2019 holiday season. But then came COVID, which pushed eCommerce shopping activity nearly as high as Black Friday 2019. Consumers flocked online — buying necessities like paper and cleaning products, canned goods and other stock-up items in anticipation of a wide-scale retail shutdown.
What was interesting was that consumers during this time weren't spending much time looking and comparing. Rather they were just buying… as fast as they could. While both traffic and repeat visits spiked by more than 20 percent, engagement metrics — like the amount of time spent on a website and the product information interacted with — significantly decreased. Consumers were stocking up for the looming lockdowns hanging over their heads and didn't have time to properly browse (see chart, below).
The COVID "Normal": Browsing the Online Aisles
Once the rush settled down and consumers became acclimated to their new "normal," new behaviors began to set in around late spring. While shopper activity declined from the spike, it still remained higher than previous years. And instead of immediately hitting the "Add to Cart" button, shoppers began to spend more time interacting with product pages online. This means that pages with enhanced media, like video content, photo galleries, product documents and comparison charts, encouraged consumers — who may have had more time to browse deeply — to stay on a product page longer. In fact, content interaction rates increased 32 percent and time on a page increased 64 percent, which was higher than any other period in 2020.
Naturally when there are a lot of people that are stuck at home, one of the things they're going to do is do work around the house and fix up their house. So, we saw a dramatic increase in our online business this year, and by all indications, it appears that a lot of that growth is going to be sustainable." — Tony Meirovitz, Prime-Line Products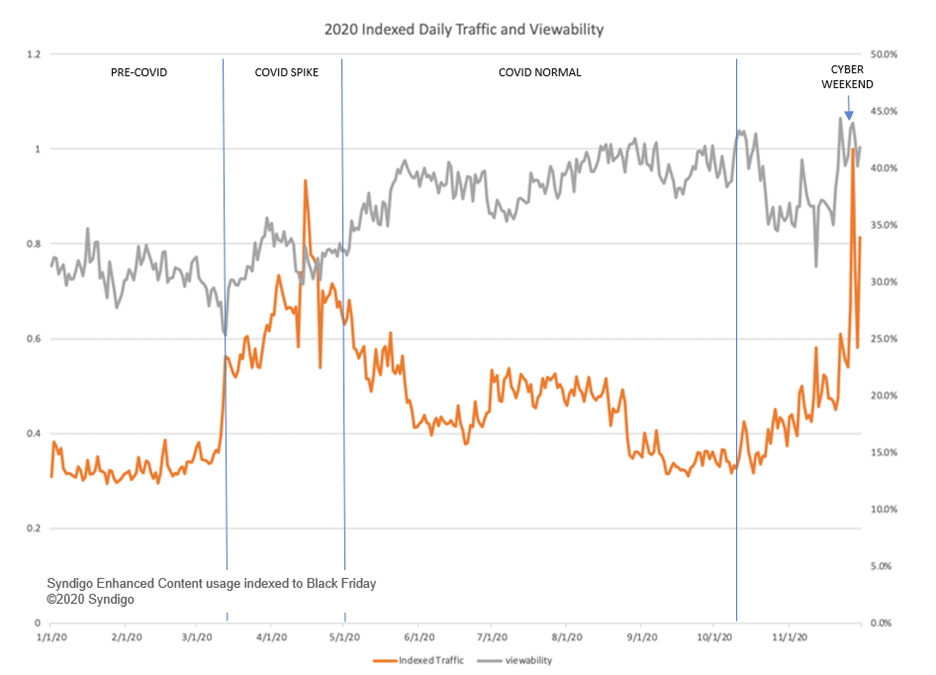 COVID Spike: high traffic, average viewability engagement. COVID Normal: lower traffic, higher continued viewability.
Suppliers and retailers adjusted as well, with new plans for fulfilling consumer needs online when they weren't venturing out. ECommerce certainly grew, as did click and collect/BOPIS or shopping services including DoorDash, Drizly and Instacart.
Cyber Weekend: Products Fly off the Digital Shelves
To make up for in-store declines during the year, holiday sales began earlier than normal. Because of this, the industry questioned if Cyber Weekend would have as strong an impact as it typically would. Online shopping behavior quickly confirmed that it did. In fact, consumers who interacted with enhanced content converted 34 percent more than those who didn't. And product detail pages with enhanced content drove more than $1 billion of incremental cart value (compared to those without enhanced content) over Cyber Weekend alone.
So what does this mean for the retail industry as we enter 2021? Because the lingering effects of COVID will continue to trickle into this year, consumers will continue to shop online more frequently. Shoppers are digging deeper, leveraging more online information. They're reviewing product detail pages longer and extensively, gaining trust when engaging with brands' enhanced content. And they may not be returning to shop in the same way they have in the past.
The acceleration of eCommerce has been incredible. To help our partners stay up to speed with the fast changing, ever important need to be successful online we must enhance the consumer experience on the virtual shelf." — John Crowder, JBS Beef
According to a recent Shopkick survey, less than half of consumers who are (or will be) vaccinated felt comfortable returning to shopping in store. Less than 2 in 10 said they would shop in stores more frequently than before. And, most everyone who is or plans to be vaccinated will continue to take personal precautions in store. They also expect retailers to do the same, with 80% of respondents wanting retailers to continue their safety protocols.
Enhanced content is one area that can help retailers (and suppliers) create that in store experience, on the shelf. Products can move from simple descriptions to telling a story, creating ways to engage with consumers. It's what helps to keep customers on the page longer, learn more and make more emotional connections to a product. Not all product detail pages are created equal – adding enhanced content to a product detail page creates a more engaging shopper experience and improves brand trust, which can in turn drive sales. In fact, we found that product detail pages with enhanced content drive average of 90% increase percent more shopper conversions than those without.
COVID forced us to fast-track what we knew we already had to do. In order for us to grow from where we were, we had to find a way to better organize, maintain and monitor our content." — Sima Delafraz, First Quality Products
After reviewing how consumers shopped over a majority of 2020, it's safe to say that they want to engage with products before they purchase. And enhanced content can help optimize those conversions. Even in cases where they may shop online and pick up in store, the importance of online content is growing significantly. As brands and retailers work to provide greater transparency into the products they feature and sell, it is important to try and create a similar environment. If we learned anything from the pandemic, it's that ecommerce isn't going away anytime soon. Take the time to evaluate your digital tools to ensure you're prepared for its growth this year.
Consumers' expectations have evolved. Retailers' expectations have evolved. Distributors' expectations have evolved. The world has changed. I don't think we'll ever go back to the old normal, and what that means is you really have to make sure throughout your supply chain, regardless of where your position is, that you as a brand or a distributor are able to sell the items with the right information so that we are not losing out on missed sales because you don't have something classified correctly." — Mike Hegarty, Lipari Foods