by
Benny Blum – SVP, Product
Jennifer Ley – SVP, Enhanced Content
Growing up my family was in line at 4 AM on Black Friday hunting for doorbusters and strategizing how to divide and conquer to get all the deals before they were gone. Fast forward (enter the internet plus a couple of decades) and holiday deal hunting looks quite a bit different. This year my family didn't even think about putting on our parkas and standing inline partly due to COVID but also because I started hearing about Black Friday deals weeks before Thanksgiving and Cyber Week seems to have been extended all the way to Christmas. Some deals are still timebound to drive urgency but let's be honest – Black Friday / Cyber Monday is a Season and no longer a one-day event.
The evolution from "door busting" to a six-week extravaganza has natural consequences. While there is still a visible peak in browsing and shopping around Black Friday / Cyber Monday, the long-term trend is starting to look a bit more like a mountain and less like skyscraper.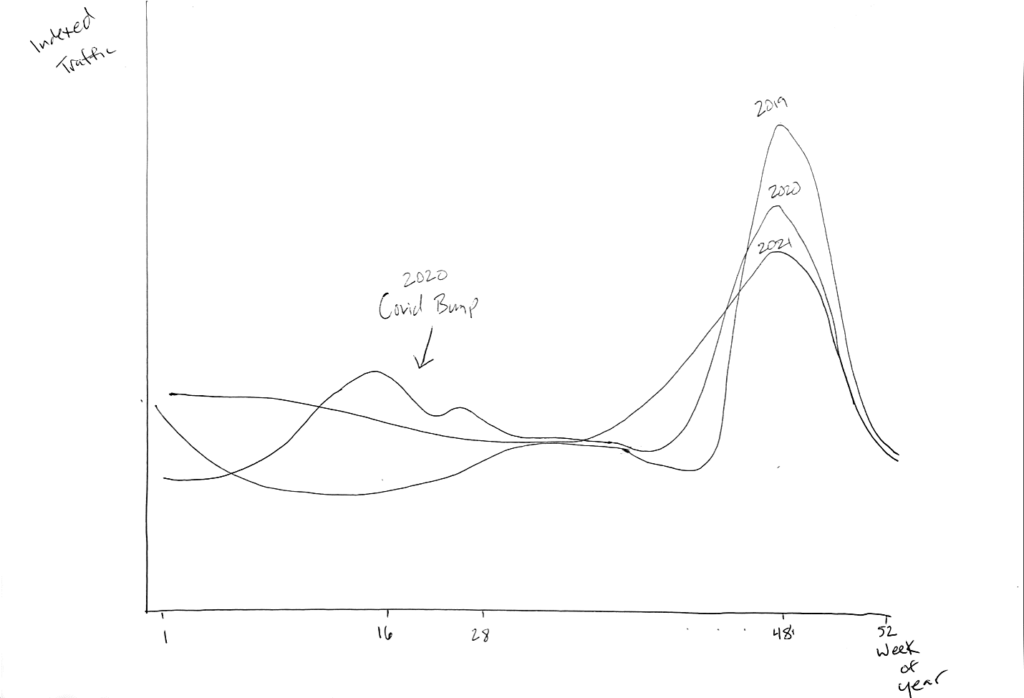 In 2019 Black Friday / Cyber Weekend accounted for almost 5% of observed web traffic for the entire year. Compare that to 2021 where that number slipped to just under 3%. That said the traffic surge started almost 2 weeks earlier in 2021 compared to 2019. So while the peak was noticeably lower this year, the overall relative volume may not end up being too far off once the season shakes out.
In the past few seasons we've seen several promotional periods within peak holiday but this year Santa brought a new challenge. We're all aware of the supply chain and inventory issues – labor shortages have impacted the availability of raw materials, pace of transportation, and driven up prices. Professor Smith's Econ 51a class taught me that when the demand is high [and inventory is low], the market will bear higher prices. However, some practical retail experience states that you must give shoppers a reason to come into your establishment and drive a sense of urgency to get the sale.
So…how do you handle it when you know you need to offer a discount but don't have enough inventory on hand nor the "need" to give up margin with demand exceeding supply? In our observations, we have seen heavy discounts on second runs – "safe bets" or last year's top items – which already have more refined supply chains and are reliable sellers. Where top items are being discounted, promotions are smaller and more limited.
While the remainder of the holiday season plays out we'll keep working on our theories, crunching numbers, and sketching charts. Be sure to check back later this month when we publish our Holiday 2021 Roundup.