The customer experience is based on great product information as well as a platform and processes for managing it all.
In our recent survey of global product content leaders, commissioned with Forrester Consulting*, we learned about their thoughts around digital transformation, customer experience (CX), their and priorities around using product content to grow their businesses.
Here is what we found around the types of information digital leaders require for successful product performance online.
The Customer Experience Goes Beyond Product Content
Today's consumer is conditioned to seek out enhanced content and rich media that helps them along their path to purchase. This means that product content continues to be a huge component for digital experience success. With it, shoppers can discover new and differentiated products, compare with other items, engage in ways that help them to envision the need it fills, and finally, purchase.
In the Syndigo/Forrester Consulting study, more than half of respondents (54%) recognized the value in improving their product content quality. However, their needs go far beyond simply improving product content. In fact, 52% of executives acknowledged their need to do a better job at understanding what their customer partners needed in terms of product information. Given the expansion of online purchasing, and the strength of selling platforms including Amazon, Best Buy, Costco, Target, Walmart, and food / beverage retailers like Albertsons or Winn Dixie, the need to format product information to a recipient's standard is critical.
A majority (53%) also saw the need to integrate their own core technologies better to achieve their goals. Clearly, as far as the industry has come in a short time, there is a need to grow even further.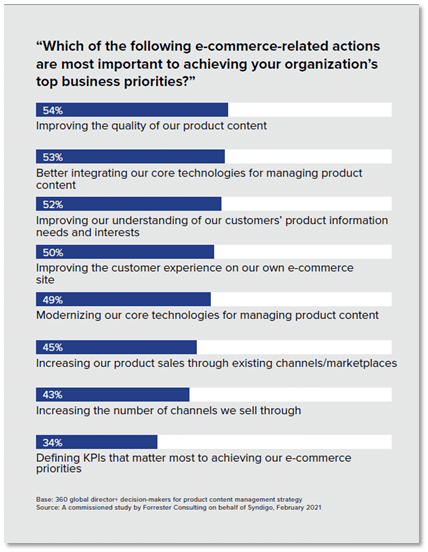 Improving the customer experience – including better content quality and management – are top priorities on the list for eCommerce executives looking to drive their business forward.
Regional Differences
Digital marketers recognize that more is needed than just the data in order to execute their content programs online. How these internal and external requirements interact with one another will also likely differ across organizations. However, there is strong consistency regionally in most of the questions around the eCommerce actions required to achieve business success. Here are a few outliers:
Integrating core technologies was a bit higher priority for Latin America respondents (59%) than either North America (52%) or EMEA (49%). LatAm executives rated significantly higher than EMEA, however, on the question of modernizing their core technologies, such as PIM, DAM, and CMS. Where the global average was 48%, North America (51%) and LatAm (56%) rated much higher than EMEA executives, who only listed modernizing core technologies as key to their business objectives 36% of the time.
Interestingly, executives in the EMEA region did rate people-based skills higher than global or regional segments. For example, the idea of upskilling internal talent or partnering with an external expert ranked higher in EMEA (43%) compared to North America (31%) and LatAm (35%). Additionally, the EMEA rated improving cross-functional communications and team building as a more important attribute (42%) than either North America (33%) or LatAm, where only 25% rated this as an important element.
Focus on Internal and External Improvements
Although product content is often the thing that is immediately highlighted for improvement when it comes to eCommerce performance, there is also a strong desire by marketers to build out the systems, expertise and people responsible for managing the information and executing on the results. By working externally – to ensure product information is distributed accurately and optimized for shoppers – businesses can strengthen their eCommerce sales.
In addition, by looking internally – into ways to improve information connectivity, data governance, and individual expertise – businesses also can strengthen their programs through data consistency and accuracy across domains.
* Commissioned study of 360 global directors and decision-makers for product content management strategy, by Forrester Consulting on behalf of Syndigo, February 2021