Many of today's consumer goods businesses are finding themselves in need of new processes or technology, as the need for product information and logistics grows in complexity. The tools that worked in the past may be less efficient for today's product content management when interacting with PIM or DAM systems.
We at Syndigo have found that over time, information is created, collected and stored in multiple departments for different uses, and as that content is shared, it is often updated and accessed in an inconsistent manner. With the ever-increasing complexity of product content needs, (like eCommerce in addition to in-store shelf merchandising, or new industry requirements), the task of simply sharing documents is not always an efficient or reliable way to ensure quality and efficiency.
Consider the following scenario – and notice where potential conflicts may pop up. Let's say Rachel, in Marketing, creates a product record for a new item due to launch in 3 months. Chandler, also in Marketing, sees the new record and begins to enter the product details in the shared spreadsheet that they will use to submit to their recipient partners in advance of launch.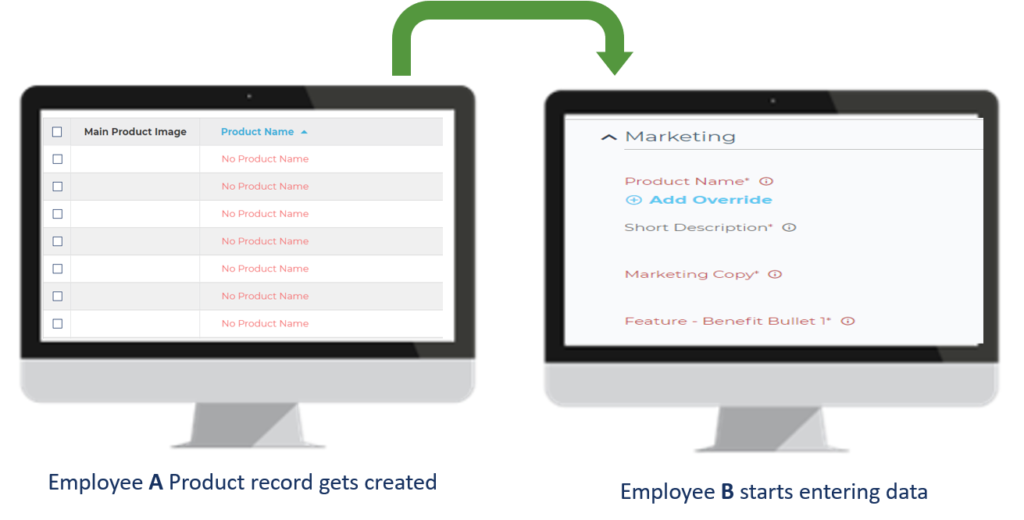 Separately, Ross, (who has data quality as a responsibility), notices the new entry and makes updates to the data with different information, to conform to with internal naming and taxonomy standards. Since it is late in the day, Ross doesn't manually notify Rachel or Chandler that he has made any changes.

Meanwhile, Phoebe (eCommerce) and Joey (category management) add images to meet the requirements of their respective departments. Since the image filename are simply numbers rather than descriptive, some of Joey's images overwrite several of Phoebe's eCommerce product shots with larger-size merchandising images.
Later, Monica, from product development, adds some last-minute label and dimension changes to the item as a result of production developments. She emails Joey, since dimensions have changed. However, since content is not her responsibility, she does not publish the final content to their recipients.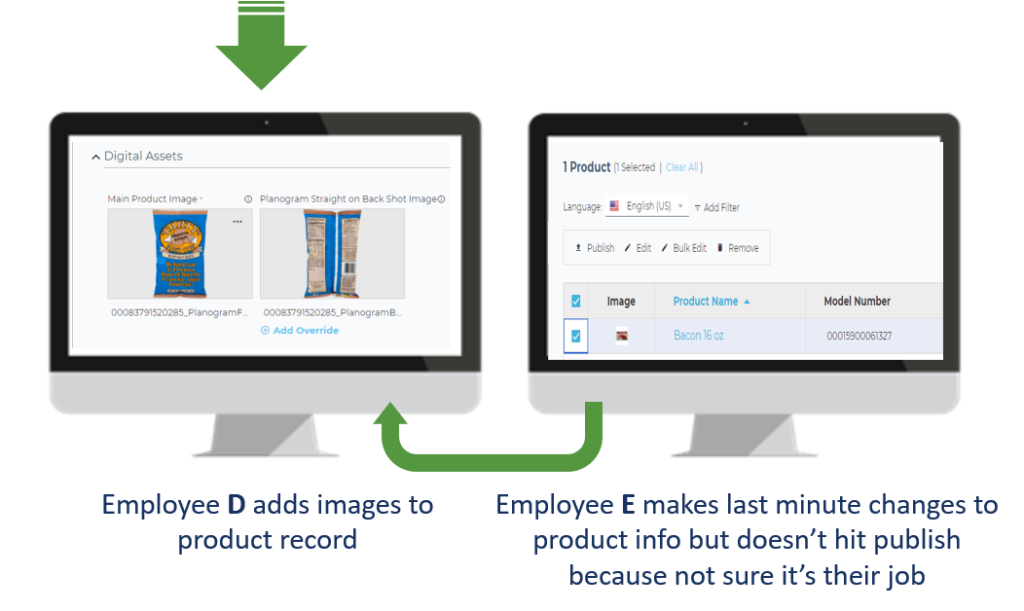 The next week, Rachel realizes the product record has not been submitted. Re-checking the information one last time, she notices some of the product descriptors and assets are different from what Marketing first entered. Since it's unclear what the final set of content should be, she schedules a Zoom call the following week – the first time everyone has an opening on their schedule.
Does this scenario sound familiar? While this example may be a bit farfetched, the possibilities for error in data management are no joke. Some of the mis-steps and inefficiencies are common across large or growing organizations.
Unlock Data & Boost Business Results
Workflows are an important way to tighten up data accuracy, while giving more insight into where the information is within the system. It allows each user or function a way to fill in product data and to ensure they deliver more complete attributes faster.