Schleich is a leading toy figurine manufacturer with an annual sales record of over 40 million characters and play sets sold in 60+ countries, which has made it a truly global player in the industry. In 2022, Schleich achieved a revenue of EUR 275 million. Founded in 1935, Schleich is globally recognized for its commitment to safety, high-quality, and environmentally responsible manufacturing processes. Its products spark the imagination and promote creative play for children and collectors alike, and the company continues to innovate and expand its offerings while remaining true to its mission statement:
Schleich ignites the joy of limitless storytelling and all children through everyday play with uniquely authentic characters and sets.

Building on its rich history and commitment to constant improvement, Schleich has set an organizational goal to become more of a data-driven organization and develop systems and processes that allow Schleich to collect and exchange data efficiently and use it effectively. Turning the time collecting data into the time generating insights. At the same time, Schleich would love to leverage eCommerce not only as a tool for customers to shop, but also for creating a holistic brand experience.
"Schleich is managing a catalog of more than 500 SKUs, and it's hard to be present on every single product page at every time, we want to make sure that 100% of our active assortment is showing how we want it to show 100% of the time.
And of course, that extends to if the content converts, are we winning the buy box, are pages live, are our products ranking where we would expect them to rank… we look at these metrics on a daily basis to make sure that things aren't falling off and we have as much visibility of what's going on as possible," explained Holly Pitel, Digital Shelf Analyst for Schleich, USA.
In order to adapt to the new digital world and accomplish its goal to become a more data-driven organization with an end-to-end brand experience, Schleich uses Syndigo for Digital Shelf Analytics.
Never Fall Off the Digital Shelf
The new eCommerce environment comes with new shopping behaviors from consumers. They are no longer satisfied with text-only product descriptions but expect videos, 360 spins, 3D models, and more interactive and enhanced content experiences.
"Having great content is no longer enough, you can't beat the competition just by having better content," said Holly.
At the same time, just as Holly mentioned, you can't thrive with having good content only, the key is to make sure it's showing at all times.
Prior to having Syndigo, Holly and her team would spend tons of their time tracking the product pages they manage just to make sure they are live, and everything shows up correctly. The time-consuming manual work was inefficient, and adding on to that, even with the checking by the team, PDPs were still not 100% accurate. Frustrating experiences still would happen due to incorrect descriptions, images not showing up, and broken links.
Syndigo's Digital Shelf Reporting allows them to be more proactive. It highlights inconsistencies on live sites daily and eliminates hours and hours of manual labor to review the PDPs. Schleich employees can now focus on strategy and addressing the issues right away.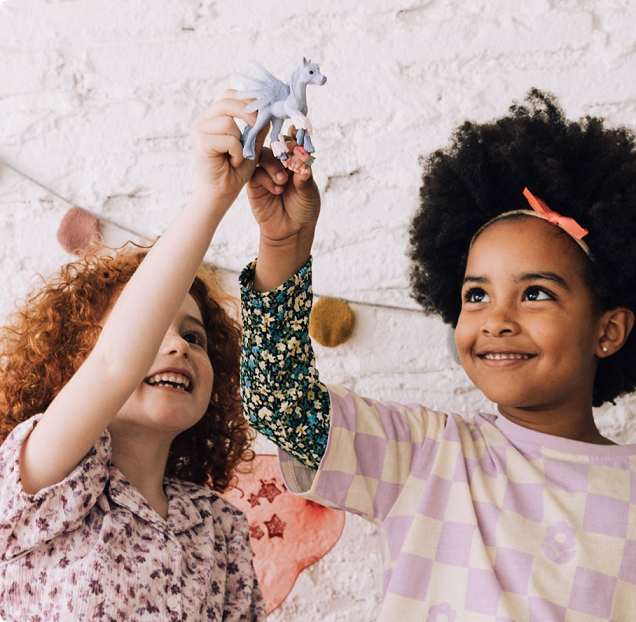 From the content quality side of things, the Content Health Report has helped Holly and her team take the Content experience to the next level. By providing a score of their content on a retailer's site, it acts as a guide to allow them to continuously optimize their content. Having a better score benefits both parties, Schleich gets to deploy content that has a higher likelihood of providing an optimal customer experience, and retailers can expect higher traffic to their sites and increased sales. In the past few months of using the Content Health Report, Holly and her team have seen an increase in their Content Health score by 10 points* , and they saw a great return in Q4, 2022.
*Max score is 100.
Stay On Top of the Digital Shelf
Winning the Buy Box
The major trend Schleich tries to adapt to is the increasingly competitive digital shelf resulting from everyone's focus primarily on eCommerce. When it comes to marketplace websites, namely Amazon, digital shelf placements are becoming more competitive, and more expensive to get. The issue occurs daily because of the nature of the marketplaces – millions of sellers vying for the buy box.
"You can pull your data any minute and find out there's an extra buy box you lost from yesterday going unnoticed. With the buy box status on Amazon changing hourly, it's impossible to have our pulse on that many SKUs all the time."
Lost buy box can be caused by various reasons, and sometimes it's hard to tell if you are looking at the right corner. It could be the product being Out-of-Stock, or the competitor is undercutting you on price, or simply because the PDP is not live.
Pairing Buy Box Report and Out-of-Stock Report, Holly and her team have achieved a new level of efficiency. If the product that lost the buy box is highlighted as Out-of-Stock, they can simply replenish the stock and take a second look to examine all the buy box lost that says in stock. This provides valuable insights that can be used to address different buy box lost situations, such as adding promotions to win back the buy box when a competitor is undercutting them on price. As a result, Holly and her team have seen an increase in their Buy Box Won percentage, as well as an overall improvement in their sales performance.
Product Variations Used to Be a Challenge
Product variations have been a significant challenge for Schleich. It is crucial for them to manage product variations but difficult to keep track of. Product variations allow customers to select the specific options they need or prefer for a particular product, and it helps brands to stand out among the competition by having better control over their inventory and optimizing their product listings.
Holly and her team used to manually check each product detail page every day, which was time-consuming and often resulted in errors and broken links that went unnoticed. However, since implementing the digital shelf reporting tool, they have been able to proactively monitor and manage product variations, ensuring that customers are always seeing the best representation of their products online.
The digital shelf reporting tool provides daily reports on the number of variations on each product page, making it easy for them to identify and fix any broken or missing variations. By staying on top of changes to Marketplaces' algorithms and other factors that can impact how Schleich's products are displayed online, they can make sure that their customers are always getting the best possible experience and that their products are being represented accurately and effectively.
Compliance, Compliance, Compliance.
One more item to tick off Holly's list is compliance. Almost all products are subject to product compliance since it is essential for protecting consumers and ensuring that products are safe and compliant with laws and regulations. Without receiving all the necessary documentation to prove product compliance, retailer websites, and marketplace websites will not let your PDP go live.
Holly has been utilizing the tools Analytics provides to granularly manage her compliance listings.
"I use the not-live designation (within Analytics) to target any URL that should be active but not, and whenever a PDP is not live for us, we know that most likely it's because of product compliance. So, I submit the appropriate documentation to Amazon and voila, my PDP is up and running."
The Power of the Active Content Engine
Before using Analytics, Schleich had been using Syndigo, the Active Content Engine for 3 years, and Syndigo has always been a product database for them. Adding Analytics on top of that was really an out-of-the-box solution for Holly and her team. Integrating Analytics has been extremely seamless for them since they just need to plug all the data into their existing system. There is a boost of efficiency as well, Holly and her team have been freed up from going through all product pages and making sure that things are correct and live to focusing their time and effort on key initiatives and fine-tuning their marketing strategies.
"I feel like anybody that is using Digital Shelf Analytics should be using Syndigo and vice versa."
Partnering with Syndigo for Analytics has also pushed Schleich forward to have a more unified platform for solutions. Not only does Syndigo allow Holly and her team the flexibility to export the data and customize the report in a way that fits their needs, but it also does so with an outstanding level of data accuracy.
"It comes with the flexibility of updating scrapers easily and gives me control of all the product data being tracked. With other solutions in the past, we had to go through their technical support to make some of those changes. And I can't stress more the importance of the data being super reliable, when I'm pulling data, I never have to worry about it being wrong or not being scraped."
The ease and intuitiveness of the platform usage are also major elements behind Schleich's overall happiness in partnering with Syndigo. Especially for Holly and her team, ease of use is the priority for them when it comes to using a platform on a daily basis. The great internal support from Syndigo's Customer Success Manager and Account Manager has made for a smooth process across the board.
Let's Look into the Future
Schleich continues to prioritize its commitment to enhancing its customers' experiences and meeting their evolving needs, the company recognizes the importance of leveraging the latest technologies and strategies to achieve these goals. Through its partnership with Syndigo and the adoption of Digital Shelf Analytics, Schleich has gained valuable insights into its products' performance and has been able to identify key areas for improvement. Schleich will continue to explore new ways of using Analytics to achieve long-term growth and success in the competitive marketplace to better serve their customers.