Charting the Course for Global UDI
There is a dizzying array of requirements for listing product information in the healthcare field. And even as standards organizations have worked to define what is needed for Unique Device Identification (UDI) data, there are multiple requirements globally.
Many of the medical device suppliers are beginning to feel the pinch.
In the US, the UDI standard (known as GUDID) was set to be mandated in September. With the pandemic, this deadline has been extended; however in the coming few years, as many as ten additional regulations agencies globally will release new and unique UDI requirements as well. Suppliers are looking at ways to manage these multiple requirements.
While the deadline extension is some relief, many suppliers are not yet adequately prepared. According to a whitepaper published by KPMG1 late last year in relation to EUDAMED, the EU standard, nearly 48% of survey respondents had not yet developed a strategy, due to continued confusion understanding the requirements. For those with a plan, 25% would continue on a manual process, while the other quarter planned either to leverage their existing IT infrastructure or create new infrastructure.
The concept of harmonizing content across an industry adds cost and effort to the producers.
For example, FDA requirements for GUDID in the US link to a 22-page downloadable manual on how to capture and deliver product information (with an additional 11 page download in the event you wish to edit your item content)!
And to sell or distribute to healthcare systems or group purchasing organizations (GPOs) globally, there are additional layers of complexity – including some regulators (such as China and South Korea) that require local language, which may not work with basic spreadsheet tracking. More important, the resources spent on capturing, validating, maintaining, and syndicating information are being taken away from other tasks.
Alternatively, working with a solution provider like Syndigo may help you get there much more effectively.
SYNDIGO UDI PROCESS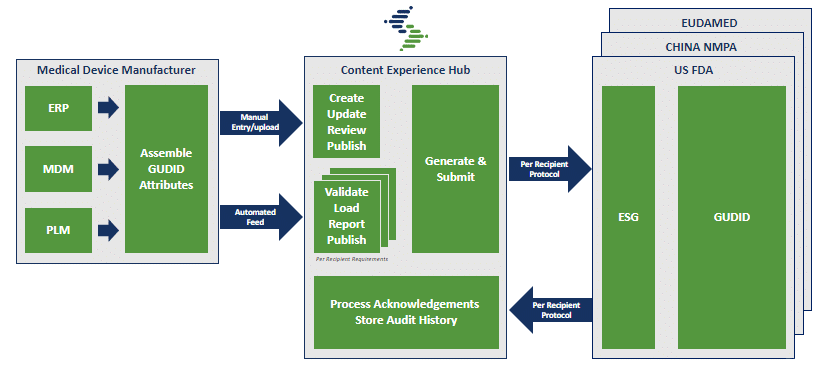 Rather than repeating your UDI ramp up multiple times for different international standards, by using a certified solution provider you can meet rapidly changing healthcare regulations from a single Product Record. Using our robust Content Experience Hub (CXH) platform, product information is captured and validated, and is then distributed to any (or all) regulatory standards required by your data recipients.
Ongoing maintenance is another headache that Syndigo can manage. If continual updates or changes make it hard to keep track and keep up, it would be easier (and more productive) to maintain the content in an online format that updates from our platform to data recipients as scheduled.
Working with a product information platform like CXH can be more than your 'insurance policy' for data accuracy and compliance. Rather, it can be an essential part of your overall data management program, ensuring accurate, verified product information for your specific data uses.
Syndigo's Healthcare capabilities are now offered exclusively via the Content Experience Hub to Syndigo clients.
Now, medical device companies can use Syndigo's CXH platform to ensure their product content is validated and syndicated to their healthcare trading partners worldwide, aligned to the growing number of country and regional UDI requirements.