In its very first edition, the Winsight Grocery Digital Maturity Benchmark study tapped the insights of the 80 largest retailers in the United States and Europe. Not surprisingly, Digital is prompting change in all industries – particularly the grocery sector.
The study revealed that:
Annual digital grocery sales will cross $150 billion by 2025, growing 26% on a year-over-year basis.
Grocers that have added digital capabilities have already reaped the benefits of increased sales and better competitive positioning.
The expansion of non-traditional, digital-native players in the grocery space have underlined the importance of digital in grocery.
"Digital isn't a good to have; it's the price of entry," says Gaurav Pant, Chief Insights Officer of Incisiv, in the study. "Grocers have to significantly upgrade their digital experience capabilities, or they risk rapidly losing market share."
The study also details the leaders across each step of the customer journey. The top 10 performers overall, in descending order, are BJ's Wholesale Club (U.S.), Carrefour (Europe), Albert Heijn (Europe), LeShop (Europe), Auchan (Europe), The Kroger Co. (U.S.), Costco (U.S.), Target Corp. (U.S.), Rewe (Europe) and Walmart (U.S).
Target Hits Bullseye And Makes Innovative Moves
Among top performers by customer journey, U.S. grocers are in the lead according to the Winsight report, including Target for research and discovery.
Aside from major store facelifts, their latest retail innovation comes in the form of a mega partnership with Disney. Not only will Target host Disney stores and create focused Disney sections on their websites, a new Target store will open at the Disney World entrance. This is an interesting example of how Target has expertly researched their target market (no pun intended!) to capitalize on a unique retail experience and exploit Toys R' Us demise.
Target's CEO, Brian Cornell, also was named 2019's CEO of the year by CNN. Cornell stated their blueprint for success includes investing in the business while "staying true" to their guests and core purpose. This included putting stores at the center of their guest experience by remodeling and opening new stores, including re-making stores as fulfillment hubs for eCommerce.
Syndigo: Right Data. Right Now.
At Syndigo, we enable Target to provide a single source of truth to their shoppers through our product content management platform. Through CXH, suppliers can publish complete, templated core and rich product content on Target.com to drive sales. Syndigo can help:
Capture Core Content: Create, collect, audit enrich and manage your product label information to optimize your eCommerce experience, in-store merchandising and supply chain and logistics data
Engage With Enhanced Content: With enhanced product descriptions and rich media on Target, manufacturers measure an increase in online sales.
Optimize Content Health: Monitor and improve your content by knowing what areas need attention with robust analytics and reporting. Receive alerts about easy fixes to improve content quality on Target.com.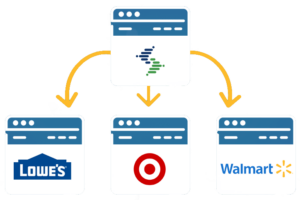 It is clear that the importance of digital content is a requirement for any supplier or retailer looking to stay competitive as a viable option for today's shopper. Integrating product content online and offline requires collaboration between departments and with content providers such as Syndigo.
In the marketplace of today and the future, it will be critical to integrate content at the product, store and online level to ensure a seamless shopper experience.