The evolution of shopping has accelerated in past years, with stores making many necessary adjustments to connect with shoppers and sell their products during a pandemic. However, based on initial analysis of shopper visits to product detail pages (PDPs) during the holiday season in 2022, The trends are more in line with 2019 levels, signaling a return to more predictable patterns—with a few differences. Here are a few early reads on the holiday season so far.
Both online shopping and in-store shopping grew in popularity over 2021, according to the National Retail Federation (NRF). This year however, in-store shopping (+17%) saw a larger boost in shoppers than online (+2%), ending two years of declines for in-store shoppers.
We noted in an earlier post that retailers were pulling the holiday promotional season forward, hoping for early sales, while shoppers appeared ready to buy if the price was right—both in-store and online. And the early results seem to confirm that there were deals to be had and shoppers were looking to buy.
Looking at Syndigo Enhanced Content activity and shopper interactions, we did see some confirmation of these facts. Enhanced Content usage in 2022 paralleled prior years, and did so at levels that were similar to 2019.
Perhaps fitting for its name, Cyber Monday again pulled in more online sales than Black Friday, according to Adobe Analytics. Shoppers spent a record $9.1 billion in online sales on Black Friday, and an additional $11.3 billion on Cyber Monday. This increase was not simply fueled by inflation, but also by demand.
Retailers began announcing holiday sales the weekend before Black Friday, meaning shoppers began researching purchases up front and execution later in the weekend. And with increased in-store presence this year, many of these online visits may have influenced Black Friday sales in store.
Syndigo tracked a daily uptick the Sunday and Monday prior to Thanksgiving. This would confirm the idea that shoppers were preparing early. Tuesday and Wednesday also showed higher-than-average interactions, which then jumped on Thursday and spiked, as would be expected, on the day in question, Black Friday. And while Saturday and Sunday ebbed a bit, Cyber Monday created a second, smaller peak in Enhanced Content views.
Enhanced Content Daily Views, November 2022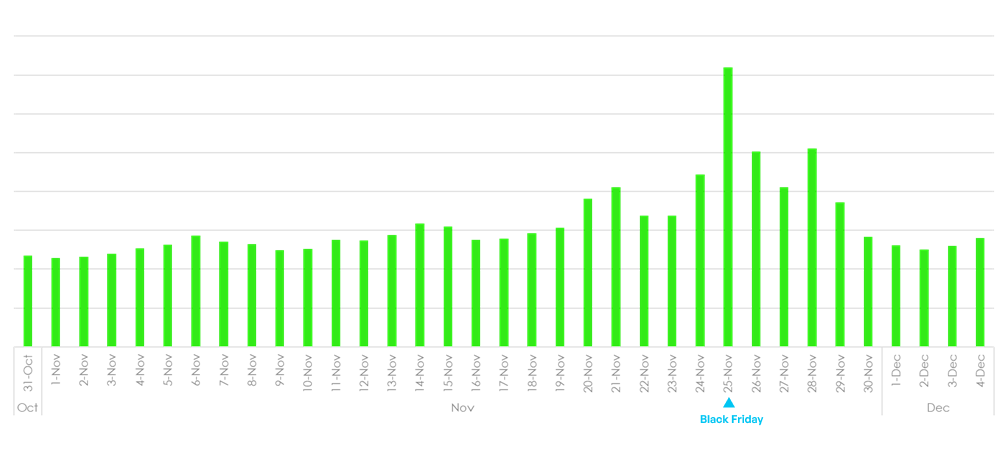 The Syndigo data, combined with sales reports, suggest a few things:
People are becoming used to accessing Enhanced Content, both for planning purchases in store as well as buying online—especially with promotional deals on the horizon.
People are making plans on Thanksgiving. While family get-togethers are the tradition, it is also important to note that the social part of Thanksgiving also can include planning for shopping on the Black Friday/Cyber Monday weekend.
Enhanced Content usage is more than double an average day on Black Friday, which aligns with shopper activity. Although the sales season now may be spread out over a longer period, Black Friday it is still a place of focus when it comes to being online.
Mobile orders continue to grow, with 48% of online sales made on smartphones according to Adobe. This means that content must be optimized for each device screen that may access a PDP.
How to Build Your Online Programs
Syndigo offers many different ways to drive more sales online, with many different options for Enhanced Content types. Depending on the category, product line and retail outlet, suppliers can leverage and test different combinations of manufacturer-sponsored conent to understand an optimal combination for maximum lift. Here are some types of Enhanced Content to consider using, and their average conversion lift rates.*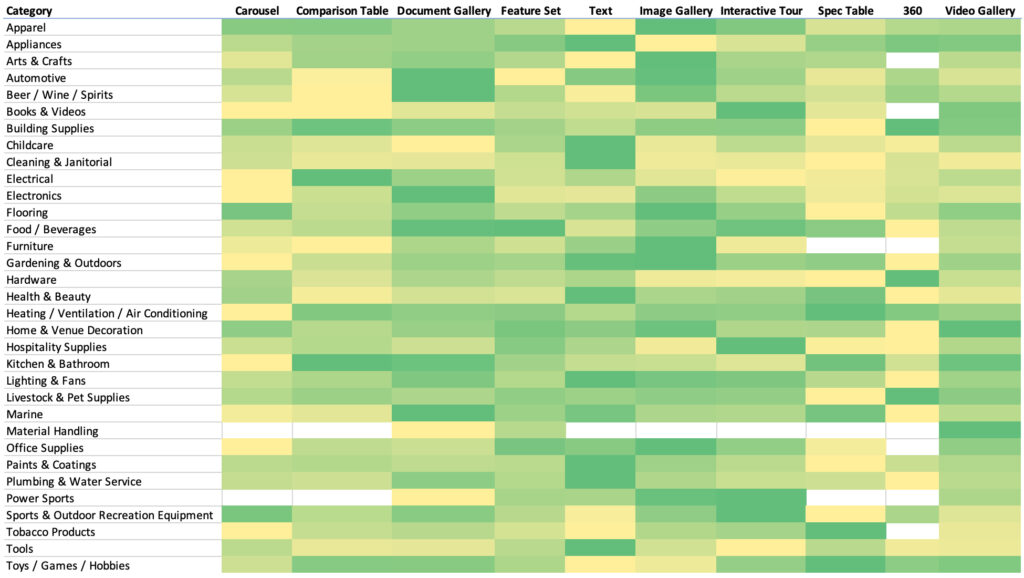 *Greens = over-indexed (higher conversion lift) for the category/widget; Yellows = under-indexed for category/widget. Conversion lift is an average across different product types and categories, and therefore can vary based on each item. Overall, all Enhanced Content measured shows an incremental lift of 46% (+0.46x) compared to Product Detail Pages (PDPs) with no Enhanced Content.
For example, in the chart above, the PDPs in the Apparel category have generally larger conversion lifts with image Carousels, Comparison Tables and Image Galleries, while text descriptions and specification tables are less impactful. For more details and information on how to make Enhanced Content work for specific product pages, please reach out to a Syndigo representative.
Today's emphasis on creating engaging user experiences is here to stay. With shoppers becoming more familiar with mobile shopping and browsing online (even when visiting a store), retailers and brands also must embrace Enhanced Content to drive more visits and sales per PDP. Testing different configurations of content should be a similar exercise to evaluating different copy or campaigns – by measuring Enhanced Content activity, suppliers can improve their outcomes.
Sources:
https://nrf.com/media-center/press-releases/record-1967-million-consumers-shop-over-thanksgiving-holiday-weekend
https://business.adobe.com/blog/the-latest/cyber-monday-statistics