In our recent study, commissioned with Forrester Consulting*, industry leaders shared the challenges they faced with eCommerce content. A great majority noted that integrating their data sources were the largest concern, followed by the difficulties in measuring the effectiveness of product content to deliver on their objectives.
Here is a highlight of what business leaders struggle with as they look to manage and measure their eCommerce performance.
Can't Manage What You Can't Measure
As we noted in an earlier post, the customer experience goes beyond product content and into technology and recipient requirements. However, the internal processes that drive product content development are also a struggle for today's marketers.
The study showed that two out of every three executives are struggling with how to integrate all their data sources to deliver a more holistic picture of their content performance, which can have a big impact on understanding what works and what doesn't. Regionally speaking, Latin America executives agreed most strongly with this sentiment (78%), leaving both LatAm and North America (67%) rating higher than the global average. The EMEA region was slightly less eager in their stated desire to integrate data, yet this was still the sentiment of a majority of those respondents (52%).
Measuring the effectiveness of product content to drive business outcomes was another sore spot. The study showed that 64% reported having difficulty measuring the effectiveness of their product content. Regionally, respondents in the EMEA again gave a lower ranking (54%) on this question than either North America (68%) or LatAm (69%), but all regions showed that the majority of executives struggle with measuring content effectiveness.
Surprisingly, only 34% of respondents highlighted defining KPIs as important to their business objectives. This could indicate that these respondents know what they want to measure, however without the tools to measure accurately, defining those KPIs is not as meaningful an exercise.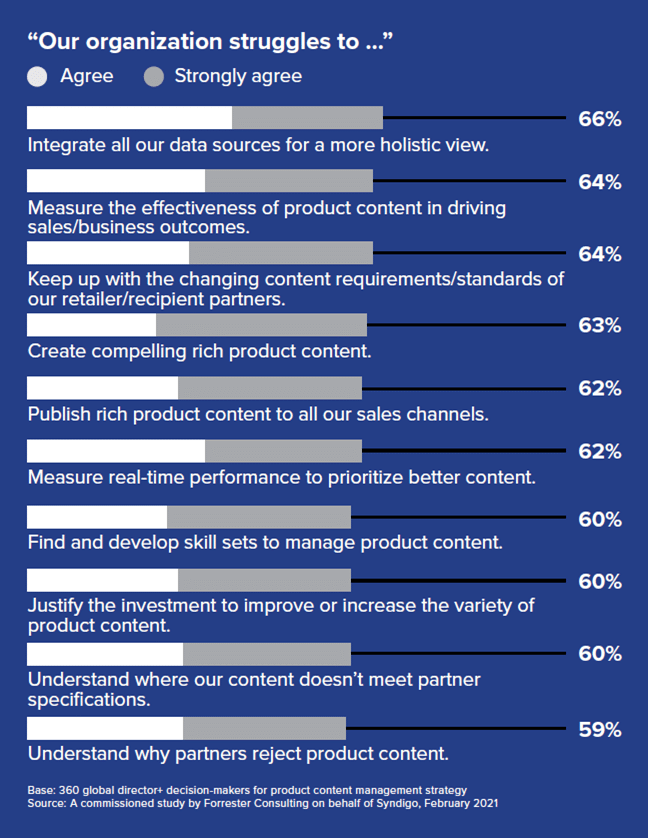 Respondents agree that the challenges of integrating, managing, and measuring their content are significant concerns that can impact their overall performance online.
Of course, the ability to create and deliver compelling content is also an obstacle for businesses today. Sixty-three percent of respondents tagged this as a challenging activity. Regionally, North and Latin America respondents rated this as more difficult (65% and 70%, respectively) than the average, with EMEA at 52%. Still, it is clear that by creating product content across different platforms and data sources, it becomes especially difficult to foster a holistic brand experience for shoppers online.
Perhaps the most telling of the disconnect between content and business performance is that a full 60% of executives struggle with justifying investments in improving their content to drive sales. Regionally, EMEA (40%) again trailed North America (63%) and Latin America (72%) significantly in this sentiment.
Measure to Manage
The past year's accelerated growth in eCommerce only heightened the content gaps that many brands were facing online. Even as consumers are beginning to shop in person more and more, there is an increased expectation of finding products in store that match their online persona, and vice versa. Combined with continually changing retailer requirements and the need to justify budgets with hard data, the importance of an integrated content approach continues to grow. This represents an opportunity for forward-thinking brands, as they look to stake a claim online as well as in store.