In the battle for every shelf, speed is an essential weapon to have in your arsenal. Whether you're testing marketing content, updating important product information, or launching a new product, there's a perpetual sense of urgency in putting the right information in front of your customers—especially on a huge retailer website like Kroger.com.
Kroger owns the largest collection of grocery supermarket chains in the United States, with 2,800+ stores in 35 states. It also runs a massive ecommerce operation under its collection of nationwide banners, making it a key sales channel for brands in a variety of grocery and CPG verticals.
Here's what some companies had to say in the past about the experience of getting their product content live:
"The submission of eCommerce content changes is confusing in VIP. Must follow the exact steps or it will not land with the correct Kroger team for processing."
"Once updates are submitted, I have no visibility to the status or if it's being worked on."
"What I end up seeing online, may have changed from what I submitted with no feedback or reason why."
The process of syndicating product content online can be frustrating and glacially slow at a point when time is of the essence. It can take weeks or more for new product information or assets to see the light of day on an ecommerce site—and even then, there's no guarantee it matches what you submitted!We knew there was a better way. We collaborated with Kroger to implement Kroger Seller Center—a shortcut for brands to get product content live on one of the largest and most active ecommerce stores in the U.S.
Kroger's Unique Solution
The Kroger Seller Center accelerates the submission and review process of marketing copy and digital assets, getting content published on a scale of hours or days instead of weeks or months.
Syndigo is trusted by Kroger to vet and verify all content submitted through the Seller Center for accuracy, essentially "skipping the line" and getting straight to the front for publication on Kroger.com and other sites managed by Kroger banner brands. Content pushed from Syndigo outranks all other sources and is populated directly onto your Kroger product data pages (PDPs) without Kroger review.
Syndigo's VP of Retail Client Development, Tamara Kenney, explained how it works in a recent webinar:
Benefits of Using the Kroger Seller Center
Using the Seller Center offers many advantages over the traditional method of submitting content to a retailer:
Increase Content Speed and Agility
An improved process to deliver content to Kroger for both core package and branded content empowers you to make content adjustments, feature new/seasonal benefits, or fix errors on the fly.
Connect Better with Customers
Deliver the right conversation to consumers via the latest brand messages through marketing copy and images.
Take Ownership of Experiences
Have full control over the visibility and relevance of product experiences on Kroger.com and express your brand story to shoppers.
Compare Desired and Live Content
Verify that your desired messaging matches product content live on Kroger.com. Get side-by-side comparisons thanks to Compare With Live.
The Seller Center not only offers a competitive edge in optimizing and accelerating your product content, but it also provides an opportunity to improve your brand's relationship with one of America's largest retailers.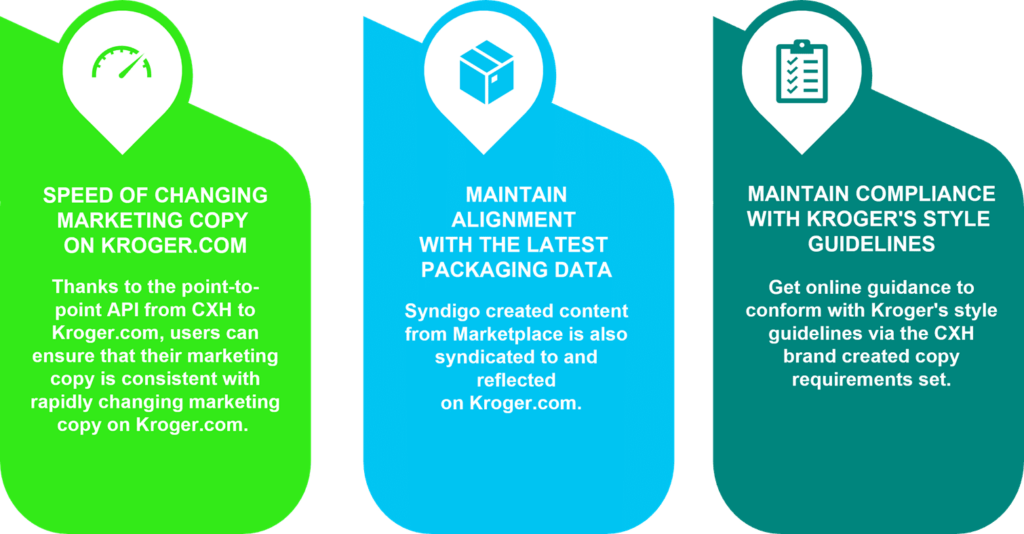 A variety of leading brands are already taking advantage of this new connection between Syndigo and Kroger, leading to a dramatic reduction in their time-to-market for updates to their PDPs.
"It's really easy," Kyle Roble, Senior Manager of Omni-Channel Content at Kellogg's, said. "You just link the products in Syndigo to the products with the recipient, and then you hit publish. There's a dashboard that shows you all the different statuses. Within 2-3 days we saw the content coming online on Kroger. Our content went from being about 55% accurate to 90% accurate on Kroger."
See his full experience with the Seller Center below:
Best of all, engaging with the Kroger Seller Center is fast and easy:
Step 1: Head to syndigo.com/kroger
Step 2: Complete the contact form at the bottom of the page to sign up
Step 3: A Syndigo representative will contact you with next steps to help you go live quickly
How to Access the Kroger Seller Center
Interested in taking advantage of this new opportunity to publish product to Kroger.com?