What's in store for the future?
That's a question many of us ask, and the coming holidays and end of year are full of articles looking to predict what's next.
In eight short (or perhaps long) months, we have seen significant change in the US and the world. Words and phrases like "unprecedented", "updated" and "new normal" are now commonplace (we'll avoid them here). What we do know, is to expect and plan for the unexpected, now more than ever. Retailers and brands have had to pivot quickly to continue their business processes.
Here is our take on the growing list of "2021 predictions":
1. Supply chains will be more ready
Back in March, as the global reality of the COVID-19 pandemic set in, consumers reacted perhaps predictably: Realizing they may be sequestered for long periods (or faced with employment realities that could reduce their income), they began to stock up. Paper products – toilet paper, paper towels, tissues, diapers – were in the headlines along with cleaners, sanitizers, and thermometers as well as games, electronics and other things to stay occupied. A supply chain built on 'just in time' replenishment was not prepared for a demand surge within a short period of time.
However, in anticipation of the coming winter months, supply chains (and retailers) have been preparing ahead of time by stocking up. This also has led to some re-evaluating of how supply chains can operate to be not just more efficient, but also how to adapt more quickly as well. Utilizing larger storage areas and sourcing items locally (rather than globally) where possible, are two examples. This works very well with non-perishable or shelf-stable items and so the retailers and their distributors that can handle larger quantities and buy in advance will be more ready.
2. Retail outlets will be more flexible
Beyond panic buying, retail outlets had more to contend with, including new rules and regulations around social distancing, mask policies, barrier shields and store capacity limits. For a business sector built around efficiency and consistency, it forced many to think differently and act quickly, especially in CPG. In the early months, these essential businesses were beneficiaries of the early stocking behavior; Supermarket News noted a 10% annual increase in Center Store sales, driven by this early push.
The pandemic also has given permission for CPG retailers to evaluate and experiment with the existing concept of a grocery store. Many began or expanded their BOPIS/Click & Collect options, others signed on with Instacart for home delivery, and some created "dark stores" which allowed micro-fulfillment capabilities to pick items for delivery without impacting store traffic. Walmart announced a complete re-configuring of some stores to reflect the ways people will shop in the future. All told, the physical store will continue to thrive as a major outlet for consumer shopping. However…
3. eCommerce will continue to gain ground
It is now the norm, rather than the exception, for brands and retailers to have an eCommerce presence. In the past, being on the web for branding and browsing might suffice; today without that "add to cart" button, brands and retailers both lose out.
With many shoppers required to stay home (or wanting to avoid crowded areas), eCommerce exploded in 2020. Amazon charted incredible growth, grocery retailers beefed up their online capabilities to support delivery or click & collect, and many third parties filled in to execute the "final mile". US holiday sales are predicted to grow by more than 35% according to eMarketer, to offset reductions in store. All told, eCommerce may grow as much as 18% in 2020, on top of a 15% gain in 2019.
This aligns with Syndigo's own research that highlighted how suppliers and retailers both recognize the growing importance of digital commerce, with 74% trying to recreate in-store shopping experiences online. A separate analysis of online shopper data showed as much as 400% increases in visitors engaging with Enhanced Content during 2020.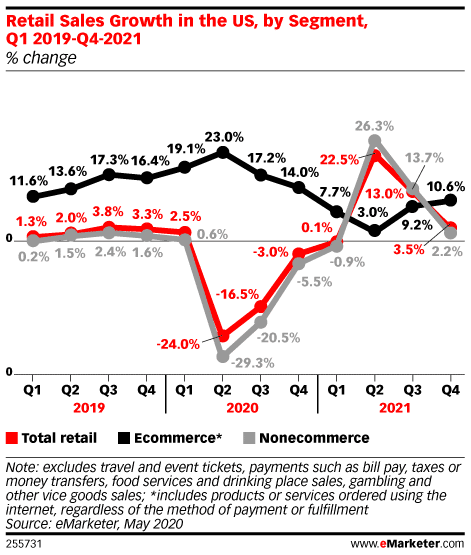 As eCommerce continues to grow, the "last mile" connection will be an interesting one. Perhaps 2021 will be the year of the drone… or the delivery bot.
4. Consumers will spend… if they can
The pandemic has brought many issues to light in the US – supply chain challenges, business sustainability and agreement on appropriate levels of sequestering. One human issue in the US One human issue in the US is the differing capability of consumers to continue their ways of life in the current environment. Forrester's Predictions 2021: Consumer sees consumers being divided between fear and desire – for those with means, there is pent up demand, but those who have been financially or physically impacted will be much more hesitant to spend.
Nielsen's recent holiday spending report echoed this forecast, identifying five shopper types, ranging from the "constrained and restricted" to the "insulated and free". While the report sets out the differences in terms of holiday purchasing, it will also likely be a recipe for reaching shoppers into 2021. For example, some shoppers may not have the capability to physically visit multiple stores but will be looking to spend. Others may be less constrained but have fewer means. Considering these different buying groups can help to inform a more targeted online (and in store) sales strategy, as these behaviors will likely exist as long as the pandemic lasts – and perhaps beyond.
Overall, 2021 should bring some regularity in shopper behavior, if not consistency or 'normalcy'. Many have grown used to the changes in the ability to shop or gather publicly. And no matter when the pandemic finally subsides, brands and retailers have seen how to alter their capabilities in order to sell to shoppers.