Good news! You may not have noticed, but you have likely been embracing GS1, GDSN, and the world of standardized product information every day.
In fact, GS1 has been part of the conversation for nearly 50 years at this point. If that concept is hard to grasp, just think back to all the times you watched a cashier scan a barcode at your local grocery store.
From the first barcode scan on a pack of Wrigley's chewing gum in 1974 to the introduction of barcodes on coupons in 1985, GS1 has long been instrumental to everyday commerce. Just check out this impressive history of milestones it has surpassed: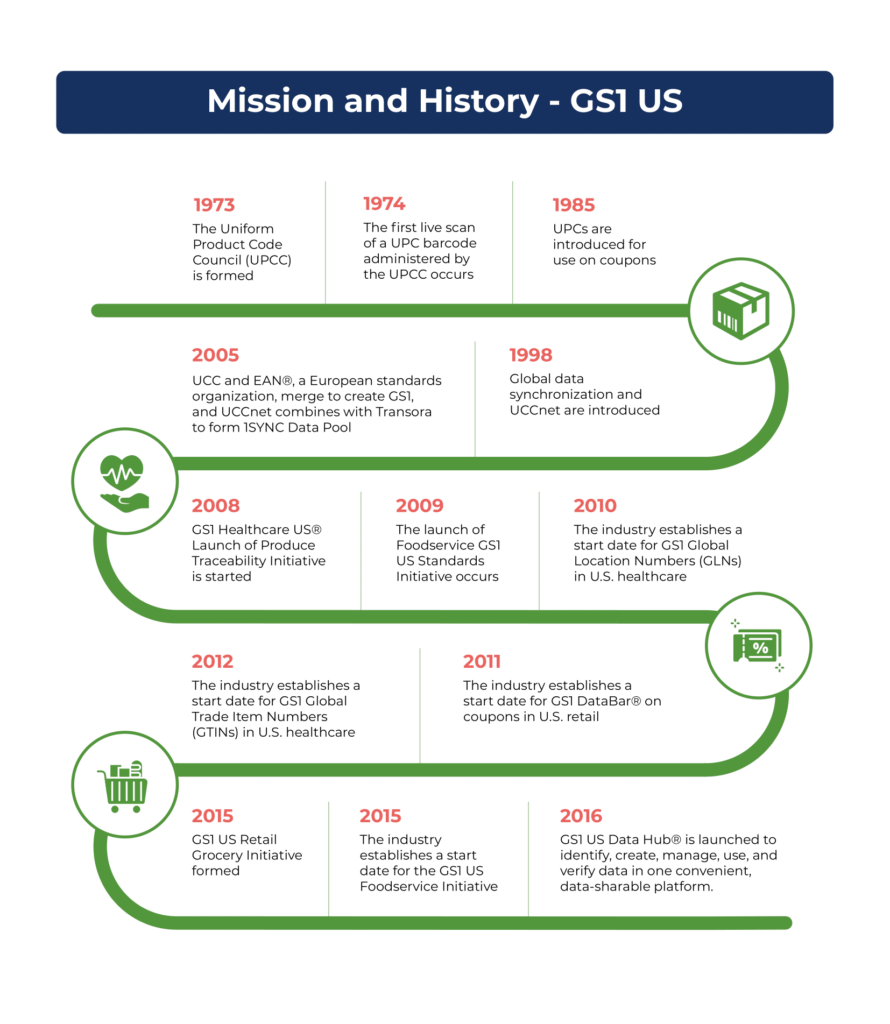 And there you have it—you have completed your first step to being a GS1 expert! Whether you are a traditional consumer, manufacturer, distributor, or retailer of goods, you are also a participant in GS1.
Of course, we all know the complex terminology GS1 entails can be overwhelming. Throughout our series on GS1 and GDSN, you will see these terms pop up. So we will break them down up front so they can effortlessly be part of our shared lexicon.
The cell phone analogy
Before diving into definitions, let us clear up the high-level concept: GS1 is a governing body, data pools (like Syndigo) are service providers, and GDSN is the network. It helps to think of it like a cellular network.
In order to connect to a cellular network and exchange information—such as text messages, emails, or photos, a person must work with a cellular phone company to provide that service. That network is governed by the Federal Communication Commission which sets standards, rules, and regulations with the service providers who interoperate with each other to exchange cell phone data (again, in the form of talk, text, or other forms of visual media).
Similarly, in order to connect to the GDSN, which is GS1's network, one must work with a service provider (in this case, known as a data pool) that will adhere to the standards, rules, and regulations set by GS1.
What does it all mean?
Now that we have set the stage with the cell phone analogy, it is time to turn to the jargon. From barcode compliance to GTINs and UPCs, there is plenty to unpack.
GS1: An organization that establishes and maintains global standards for business communication, the best known of these standards being the barcode. Compliance with GS1 standards comes in several forms, including:
Data Synchronization: The process of maintaining consistency among the data exchanged between suppliers, distributors and recipients.
GS1 Certified Data Pool: A company that provides software and services, generally in the data management space, that is also certified by GS1 to enable its clients to send or receive data via the Global Data Synchronization Network (GDSN).
GDSN: A network of interconnected service providers, called data pools, that enable trading partners to exchange product data in standardized format that aligns with and is governed by GS1.
GLN (Global Location Number): A unique identifier for a company's locations, such as business locations, manufacturing plants, shipping locations, or receiving locations.
GTIN (Global Trade Item Number): A 14-digit globally unique identifier formatted to GS1 standards that is assigned to uniquely identify products across the supply chain.
UPC (Universal Product Code): The oldest and most popular of GTINs, the UPC is a 12-digit code that generally identifies the lowest-level consumable/purchasable unit of a product.
Barcode: A symbolic representation of a GS1 standard GTIN or UPC that is generally printed on packaging or other places for the purpose of scanning and identifying products across the supply chain.
And a couple of key concepts…
Many people find themselves discussing GS1 and their compliance. Are you GS1 compliant? Maybe! But the question itself can be misleading. Being compliant is relative to which requirements or standards you are trying to comply with. Here are a few examples:
GTIN and UPC compliance: Being compliant here is relatively simple. You register your organization with GS1 and they immediately assign you a unique number called a prefix. That prefix uniquely identifies your company, much like a Social Security number. It is also the numerical base for what will become your Global Location Numbers (GLNs, 13 digits), Global Trade Item Numbers (GTINs, 14 digits), and Universal Product Codes (UPCs, 12 digits).
Barcode compliance: The barcode is GS1's most famous standard, a symbol that is clearly printed on a product and can be scanned electronically. This means if there is a unique identifier (a UPC or a GTIN) assigned to a product, it must be represented as a barcode on the packaging so that when the barcode is scanned when the product is received, transported, or sold, compliance with GS1's standards for uniquely identifying products has been achieved. There are many types of barcodes, such as the UPC/EAN, GS1 DataBar, and GS1-128 or ITF-14.
Trading partner compliance: Here is the big one! Trading partners have to agree on requirement sets. For example, what's important (ultimately required) for a foodservice distributor is going to be different than what a brick-and-mortar retailer may request. Similarly, the compliance measures for healthcare data requirements will look very different from the other two. GS1 has established industry workgroups to guide those trading partners to align on what is most important to them.