Detailing the Big Box store's requirements for online display
When it came time for Best Buy to update their product data into a single entry point process, "We had three key outcomes we wanted to strive for," said the Associate Product Manager for Best Buy. "We recognized we had multiple systems at Best Buy for managing all types of product data."
In their recent webinar session with Syndigo, Best Buy highlighted these outcomes – enhancing efficiency, increasing speed to market, and improving the customer experience – as the drivers for creating a single entry point for product data into Best Buy.
Single Entry Point ➜ Product Data to Best Buy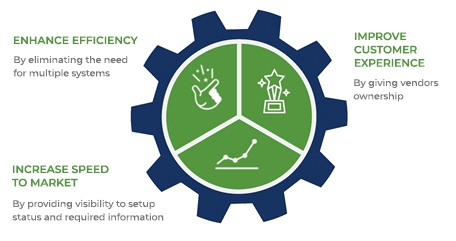 During the session, both Best Buy speakers described how suppliers could work with Best Buy through Syndigo to ensure their product information was accepted and posted.
According to the improved Best Buy data process, there are four main areas requiring data standards: Copy, Images, Videos and Documents. In addition, for Copy, Best Buy has both Global and Category data standards.
"Best Buy product data standards provide Definitions, standards to adhere to and examples of how the product data is presented in customer experiences," said the Best Buy Capability Development Manager. "The reason we have data standards is to provide our customers with a consistent experience across channels, and drive search optimization."
The session also broke down the need for determining assortment and ensuring that Best Buy SKUs are created before publishing. Syndigo also helps in the process, with the validation across custom designed dictionaries (for grammar, spelling and terms); custom audit rules for inbound supplier publications, a comprehensive validation rule set and real-time content readiness scores, all available when publishing through Syndigo's Content Experience Hub (CXH).
 With accurate data verification and the most comprehensive eCommerce capabilities, Syndigo can help increase your sales and make the most of your experience on Bestbuy.com.
For more information on the Best Buy webinar, or the overall Product Data Management process, please refer to the Best Buy information page on syndigo.com.